Training seminar for West African national drug control administrations held in Addis Ababa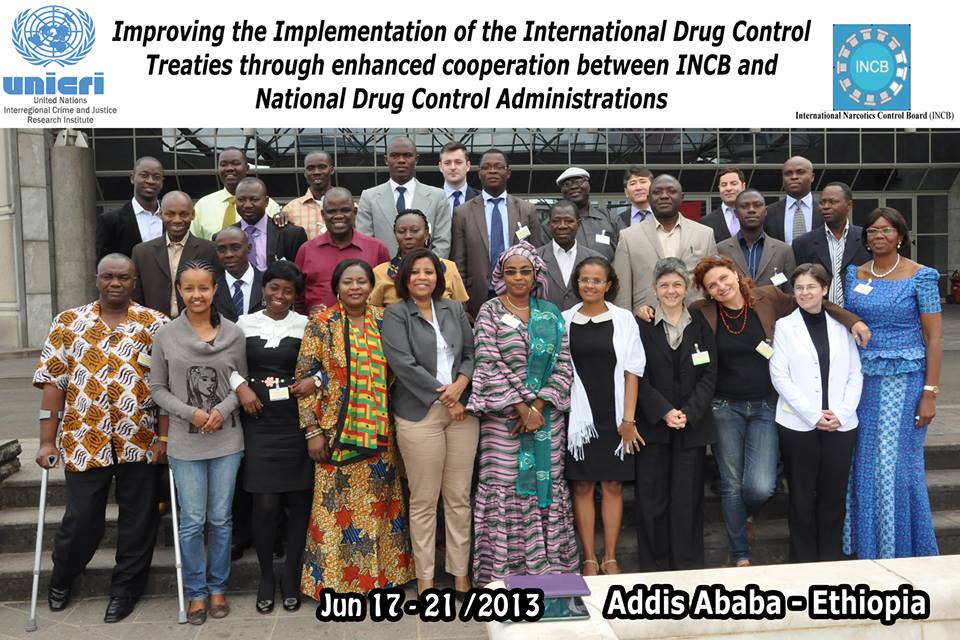 The International Narcotics Control Board (INCB) provided training to representatives of the national competent authorities of twelve West African countries from 17 to 21 June 2013 in Addis Ababa, Ethiopia. Organized and made possible by the United Nations Interregional Crime and Justice Research Institute (UNICRI), and hosted by the United Nations Economic Commission for Africa (UNECA), the seminar aimed at strengthening the capacity of the participating national competent authorities to comply with their reporting obligations under the United Nations drug control treaties, reinforcing cooperation between governments in the West African region and INCB, and promoting synergies between regional stakeholders.
 The training covered: general obligations under the three drug control conventions; best practices in improving the collection and processing of data to enable Governments to fulfill reporting obligations under the treaties; national control measures including those related to contacts with industry; and measures to ensure the adequate availability of controlled substances for medical and scientific purposes. Training was also provided on the use of the Precursors Export Notification (PEN) Online System and a presentation on the other electronic tools, such as the National Drug Control System (NDS), to assist national competent authorities in their work was made by the United Nations Office on Drugs and Crime (UNODC).
 The seminar was opened by the Deputy Director General of the Ethiopian Food, Medicine and Health Care Administration and Control Authority, a representative of the World Health Organization (WHO) and the Senior Drug Control Officer from the African Union (AU). The countries participating were: Benin, Burkina Faso, Cape Verde, Ethiopia (as host country), Ghana, Guinea, Cote d'Ivoire, Liberia, Mali, Niger, Nigeria, Sierra Leone and Togo. The seminar provided for an exchange of experiences, challenges and lessons learned, and included a presentation by the representative of Ghana on that country's experience in drug control.