INCB attends the 2013 World Cancer Leaders' Summit (WCLS)
 A delegation of the INCB led by Board Member Dr. Naidoo participated in the 2013 World Cancer Leaders' Summit (WCLS) which took place today at Cape Town City Hall from 18 to 20 November 2013. The World Cancer Leaders' Summit (WCLS) is the most important annual high-level policy meeting dedicated exclusively to influencing global strategy for cancer control.
 The theme of Summit was 'Closing the Cancer Divide by 2025' which highlights the urgent need to address the glaring disparities in cancer control within and across national, international and regional boundaries. The conference was opened by Ms. Tobeka Madiba Zuma, First Lady of the Republic of South Africa. Also in attendance were Dr Christine Kaseba Sata, First Lady of Zambia, Ms. Malika Issoufou Mahamadou, First Lady of Niger and Princess Dina Mired of Jordan. Ms Zoleka Mandela, a cancer advocate and survivor and granddaughter of Nelson Madela attended the Summit to share her involvement and highlighted the importance of early detection.
 According to the World Health Organization, more than 12 million people worldwide will be diagnosed with cancer this year, of which approximately eight million will die. Often misconceived as a disease of wealthy, developed populations the truth is that over 70% of cancer deaths actually occur in low- and middle-income countries. And without sustained action, cancer incidence is projected to increase by 70% in middle-income countries and 82% in lower-income countries by 2030. Cancer affects countries all over the world, but countries lacking the health infrastructure to cope with the increasing number of people affected by the disease are particularly affected.
 Dr. Naidoo took the floor in some of the sessions to highlight the concern that the INCB has about the availability and rational use of narcotic drugs for medical use. He mentioned that the data available show high consumption of opiates for pain relief in a few countries while in many low- and middle-income countries the consumption is very low. Dr. Naidoo mentioned that the INCB is interested in working with all stakeholders to ensure the availability of narcotic drugs to patients in need and to ensure that medical doctors and their staff are adequately trained. At the same time the INCB needs to ensure that narcotic drugs are not abused and therefore appropriate control measure needs to be in place to avoid diversion.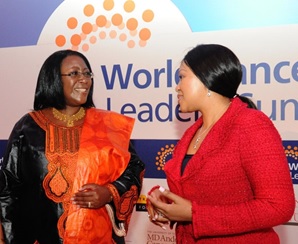 Ms. Tobeka Madiba Zuma, First Lady of the Republic of South Africa and
Dr Christine Kaseba Sata, First Lady of Zambia
(photo: Government of South Africa)