Mission to Cambodia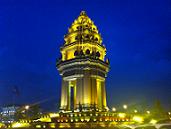 From 10 to 14 to December 2012 an INCB mission visited the Kingdom of Cambodia. The mission was led by Dr. Viroj Sumyai, Second Vice-President of INCB, accompanied by Mr. Ronan O'Laoire, Associate Drug Control Officer at the INCB Secretariat. The Kingdom of Cambodia is party to all three international drug conventions and the purpose of the mission was to discuss specific issues related to the country's implementation of these conventions. The last mission to the Kingdom of Cambodia took place in 2003.
With the objective of understanding the drug control situation in the Kingdom of Cambodia, the mission held meetings with the Minister of Social Affairs, Veterans and Youth Rehabilitation and Minister of Education, Youth and Sport as well as Secretaries of State from the Ministries of Health, Justice. Meetings were also held with senior officials from the National Authority for Combatting Drugs (NACD), Customs and Excise and the Anti Drugs Department of the Ministry of Interior. In addition, the mission met with senior representatives of UNODC's Country Office and the Office of the High Commissioner for Human Rights, representatives of non-governmental organizations working in the field of abuse prevention, treatment and rehabilitation as well as with a representative of a donor country.
Discussions focused on recently introduced legislation, administrative policies and institutional challenges in preventing drug abuse, as well as successes and achievements in combatting trafficking and production in the Kingdom. Issues related to the use of controlled substances for medical purposes in Cambodia were also discussed.
The findings of the mission will be reviewed by the Board and will be reflected in the INCB Annual Report for 2013, which will be published in early 2014.