Mission to Ecuador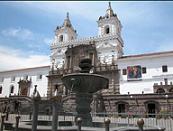 An INCB mission visited Ecuador from 20 to 22 June 2012.  The mission was conducted by Ambassador Jorge Montaño, member of the Board, accompanied by a member of the Board's Secretariat.  It was for the first time since 2003 that a mission of the Board visited that country.
Ecuador is party to the three main drug control conventions.  The purpose of the mission was to review the implementation of the three international drug control conventions through national policy.  Deliberations focused on the recent developments in drug trafficking and abuse in Ecuador, measures taken to control narcotic drugs, psychotropic substances and the chemicals needed for their illicit manufacture, actions taken and planned by the Government to prevent illicit cultivation and manufacture  and demand reduction policies.  The availability of opiates for medical needs was also discussed.  The mission met with senior officials of the Ministry of Foreign Affairs, the Executive Secretary and representatives from the constituent ministries of the National Council for Control of the Narcotic Drugs and Psychotropic Substances (Consejo Nacional de Control de Sustancias Estupefacientes y Psycotrópicas - CONSEP), customs authorities and the drug observatory of Ecuador.
The findings of the mission will be reviewed by the Board at its 105 th session in November 2012 and will be reflected in the INCB Annual Report for 2012, which will be published in early 2013.