Mission to the Republic of Korea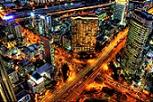 An INCB mission visited the Republic of Korea from 27 to 29 June 2012.  The mission was conducted by Dr. Viroj Sumyai, Second Vice-President and Member of the Board, accompanied by Ms. Zhenzhen Huang, Drug Control Officer in the INCB Secretariat.  The last INCB mission to the Republic of Korea took place in 2007.
The Republic of Korea is party to the three international drug control conventions. The purpose of the mission was to discuss the recent developments in drug trafficking and abuse in the Republic of Korea and the counter-measures adopted by the Korean authorities to address these issues. In particular, deliberations were focused on the control of precursors chemicals used for the illicit manufacture of amphetamine-type stimulants. In addition, the mission also discussed with the Korean authorities measures to control narcotic drugs and psychotropic substances, to ensure their availability while at the same time preventing their diversion and abuse.
The mission met with senior officials of the Ministry of Foreign Affairs and Trade, the Supreme Prosecutors' Office, the Korea Customs Service, and the Korea Food and Drug Administration. The mission was briefed by the Director of the World Customs Organisation Regional Intelligence Liaison Office for Asia and Pacific (RILO Asia and Pacific) on their activities, and had meetings with the representatives from the Korean Association against Drug Abuse (an NGO actively involved in prevention and treatment of drug abuse in the Republic of Korea) and Yongin Mental Hospital, a treatment facility for substance abuse. The mission also paid visits to the Incheon International Airport Customs Office and the forensic drug laboratory of the Supreme Prosecutor's Office.
The findings of the mission will be reviewed by the Board at its 105 th session in November 2012 and will be reflected in the INCB Annual Report for 2012, which will be published in early 2013.