Mission to Mozambique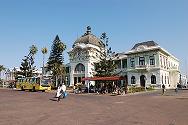 An INCB mission visited Mozambique from 3 to 6 December 2012. The mission was conducted by the First Vice-President of the Board, Dr. Lochan Naidoo, accompanied by Ms. Eva Fernandez Santis, Drug Control Officer at the INCB Secretariat. The purpose of the mission was to discuss specific issues related to the country's implementation of the three international drug control conventions, to which it is party. The last mission of the Board to Mozambique took place in 1997.
The mission met Mr. Alberto Ricardo Mondlane, Minister of Interior, Mr. Francisco Itai Meque, Vice-Minister for Education, Mr. Kenneth Viagem Marizane, Vice-Minister of Industry and Trade, Dr. Alfredo Laisse Dimande, Director, Central Cabinet for the Prevention and Fight against Drugs (GCPCD) and the Director-General of Customs. In addition, the mission met senior officials from the Ministry of Justice, Ministry of Interior, Ministry of Health, Ministry of Finance, Ministry of Trade and Industry and Ministry of Education.  The mission also visited the General Psychiatric Hospital of Infulene and a private wholesale company importing internationally controlled substances, and had the opportunity to hold discussions with a  civil society association of non-governmental organizations dedicated to drug abuse prevention and treatment of drug addicts.
Deliberations concentrated on recent developments in drug trafficking and abuse in Mozambique, the Government's cooperation with INCB,  the measures taken by the Government to control narcotic drugs, psychotropic substances and the chemicals needed for their illicit manufacture,  and demand reduction policies.  The availability of opiates for medical needs was also discussed with the national authorities.
The findings of the mission will be reviewed by the Board at its 106 th session in February 2013 and will be reflected in the INCB Annual Report for 2013, which will be published in early 2014.