Mission to Nigeria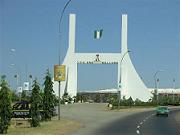 An INCB mission visited Nigeria from 02 to 05 October 2012. The mission was conducted by Ms. Galina Korchagina, Member of INCB, accompanied by Mr. Adrian Moicean, Drug Control Officer of the INCB Secretariat. The last mission to Nigeria took place in 1997.
The objective of the mission was to review the drug control situation in Nigeria and the Government's compliance with the three international drug control conventions to which Nigeria is a party. The situation of, and the actions by the government to counter drug trafficking, the provision of drug abuse treatment and abuse prevention as well as the availability of opiates in palliative care were also discussed. The mission met with the Minister of Justice, the Deputy Minister of Internal Affairs and the Permanent Secretary of the Ministry of Foreign Affairs, as well as high-level officials of the Ministry of Health. The mission also met with the Chairman of the National Drug Law Enforcement Agency (NDLEA) and the high-level officials of the National Agency for Food and Drug Administration and Control (NAFDAC). The delegation visited drug treatment facilities as well as one manufacturer of and one laboratory for pharmaceutical products in Lagos.
The mission also had meetings with the United Nations Resident Coordinator, the UNODC Representative, the WHO Representative and the UNAIDS Representative in capital Abuja as well as with various NGOs involved in drug abuse prevention, treatment, rehabilitation and social integration in different parts of the country.
The findings of the mission will be reviewed by the Board at its session in November 2012 and will be reflected in the 2012 INCB Annual Report, to be published in early 2013.