Mission to Indonesia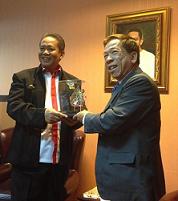 An INCB mission visited Indonesia from 25 to 27 September 2013. The mission was conducted by Dr. Viroj Sumyai, member of the Board, accompanied by Mr. Matthew Nice, of the INCB Secretariat. The aim of the mission was to review the Government's efforts to comply with obligations of the three international drug control conventions to which it is a party. The last Board mission to Indonesia occurred in 2004.

The mission held discussions with senior officials from the National Narcotics Board (BNN), Ministry of Health, National Agency of Drug and Food Control, Ministry of Social Affairs, National Police, Ministry of Trade and Industry, and the Ministry of Foreign Affairs. Issues raised during the mission included those related to access to opioid medication for the treatment of severe pain; access to and capacity of effective drug abuse treatment programmes throughout the country; supporting civil society NGO's providing community-based services for those struggling with drug addiction; examining administrative drug and chemical control policies and legislative measures that have been introduced by the Government in recent years; and reviewing the changing nature of addiction and drug trafficking in Indonesia.

The mission examined operations at the government's RSKO Cibubur Treatment Center, the Balai Besar Rehabilitasi Treatment Centre in Lido and the Panti Rehab Social Treatment Centre in Galih Pakuan, Cise'eng, and the NGO Rumah Singgah Peka community-based drug treatment operation in Bogor. The mission also held discussions with a number of NGO's including the Rumah Cemara Foundation (a community-based anti-discrimination organization for people living with HIV/AIDS and people who abuse drugs), PKNI (Indonesian Drug Users Network), JANGKAR (Indonesian Harm Reduction Network), Rumah Singgah Peka (community-based drug treatment), and LHB Masyarakat (Indonesian legal aid). The mission also visited the United Nations Offices in Jakarta and met with representatives from UNAIDS, UNICEF, UNDSS, UNDP, UNESCO, UNIDO, UNODC and the WHO.

The findings of the mission will be discussed by the Board at its next session and results will be reflected in the 2013 INCB Annual Report, to be published in early 2014.
  * Picture above
Board Member Dr. Viroj Sumyai meets Mr. Anang Iskanda, Head of Indonesia's National Narcotics Board (BNN)