Mission to the United Republic of Tanzania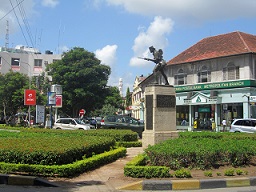 An INCB mission visited the United Republic of Tanzania from 14 to 18 October 2014. The mission was conducted by Dr. Galina Korchagina, member of the Board, accompanied by a staff member of the INCB Secretariat. The aim of the mission was to review the Government's efforts to comply with obligations of the three international drug control conventions to which it is a party. The last Board mission to the Untied Republic of Tanzania occurred in 2000.
The mission held discussions with senior officials from the Prime Minister's Office, Drug Control Commission, Ministry of Foreign Affairs, Ministry of Health and Social Welfare, Ministry of Transport, Ministry of Law and Constitutional Affairs, Tanzania Revenue Authority - Directorate of Customs, Tanzania Police Force, State Attorney's Office, Tanzania Ports Authority, Tanzania Food and Drugs Agency, and Government Chemist Laboratory Agency, as well as with Director of Public Prosecution.
The mission also visited the Methadone Clinic Facility at Muhimbili National Hospital in Dar es Salaam, the Rural Women Development Initiative, an NGO which provides counselling and establishes youth rehabilitation centres for people affected by drugs, and Medicins du Monde.
Issues addressed during the mission focused on recent developments in drug trafficking and abuse in the United Republic of Tanzania, the Government's cooperation with INCB, measures taken by the Government to control narcotic drugs, psychotropic substances and the chemicals used in the illicit manufacture of drugs. Deliberations also concentrated on the availability of opiates for medical needs, policies to reduce the demand for illicit drugs and to treat and rehabilitate drug users.
The findings of the mission will be discussed by the Board at its 111 th session held from 28 October to 14 November 2014, and results will be reflected in the 2014 INCB Annual Report, to be published in early 2015.