Mission to the Republic of the Union of Myanmar
A mission of the Board visited the Republic of the Union of Myanmar from 13 June to 17 June 2016. The mission was led by Mr. Werner Sipp, President of the Board, accompanied by Ms. Ha Fung NG (Cilla) of the INCB secretariat. The objective of the mission was to review drug control developments in the country regarding the implementation of the international drug control conventions since the Board's last mission in 2010.
The mission, which was coordinated by the Central Committee for Drug Abuse Control, held consultations with the Deputy Ministers of the Ministries of Home Affairs and Border Affairs. Meetings with other senior officials of the Police Force, the Attorney General Office and the Ministries of Foreign Affairs, Education, Health, Planning and Finance were also held. The mission also visited the 1000-beds General Hospital in Nay Pyi Taw, the Drug Treatment Centre in the Mental Health Hospital and the Myanmar Pharmaceutical Factory in Yangon.
Discussions focused on latest developments in drug control situation in light of the recent political changes in the Republic of the Union of Myanmar, legislative proposals and administrative measures of the Government to address drug-related challenges as well as on issues related to the availability of controlled substances for medical needs.  
The findings of the mission will be considered by the Board at its session in November 2016.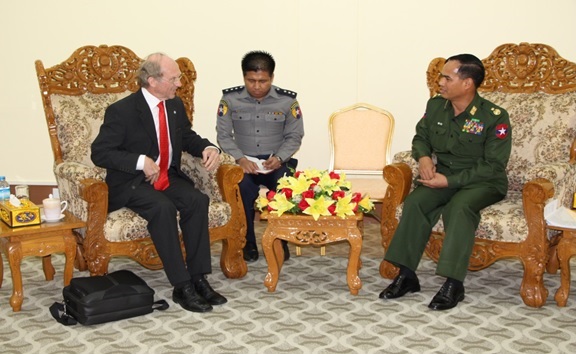 Mr Werner Sipp, President of the Board (Left) and Maj-Gen Aung Soe, Deputy Minister of the Ministry of Home Affairs (Right)