INCB President presents annual report to ECOSOC and holds consultations with Presidents of the General Assembly and ECOSOC
NEW YORK, 6 July 2017 - Dr. Viroj Sumyai, President of the Board, presented the INCB annual report for 2016 to the Economic and Social Council at its Coordination and Management Meeting.
In his presentation, the President highlighted the 2016 report's focus on the issue of women and drugs and highlighted the fact that women continue to be disproportionately affected by drug use and dependency given their comparatively lesser access to treatment than men. He echoed the Board's call to States to integrate gender perspectives in the elaboration of their drug policies to address this discrepancy.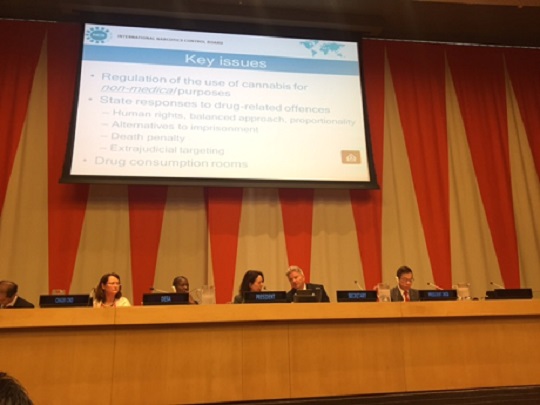 The President also drew the attention of council members to the Board's pronouncements on the need for proportionate responses to drug-related criminality, including through the use of alternative measures to conviction and punishment, and called upon States that continue to retain the death penalty for drug-related crimes to consider abolishing it for this category of offence. The President also reiterated the Board's condemnation of extrajudicial responses to drug-related criminality.
The full text of the President's speech can be accessed online here.
During his mission to New York, the INCB President also held consultations with H.E. Mr. Frederick Musiiwa Makamure Shava, President of the Economic and Social Council, as well as H.E. Mr. Peter Thomson, President of the General Assembly.
Bilateral meetings were also held with the Permanent Representatives of Jamaica and of the Islamic Republic of Afghanistan.