Mission to Switzerland
VIENNA, 24 November 2017 - An INCB mission visited Switzerland from 20 to 22 November 2017. The mission was conducted by Dr. Galina Korchagina, Member of the Board, accompanied by Ms. Ha Fung NG (Cilla) of the INCB secretariat. The objective of the mission was to discuss the implementation by Switzerland of the three international drug control conventions and to review drug control developments in the country regarding the implementation of the international drug control conventions since the Board's last mission in 2000.
The mission, which was coordinated by the Federal Office of Public Health, held consultations with the directors and senior officials of the Federal Office of Public Health, Swissmedic, Foreign Affairs, Federal Police and Cantonal Police Berne. Meetings with members of Federal Commission on Addiction and NGO representatives were also held. The mission also visited a company manufacturing internationally controlled substance and the drug injection facilities provided by the NGO "Contact Foundation" in the Canton of Berne.
Discussions focused on latest developments in drug control situation in Switzerland, trafficking and abuse of narcotic drugs, psychotropic substances and control precursor chemicals, and measures taken to address them, as well as challenges regarding access and availability of substances under international control for medical purposes.
The findings of the mission will be considered by the Board at its session in February 2018, transmitted to the Government, and reflected in the INCB Annual Report for 2018, expected to be released in March 2019.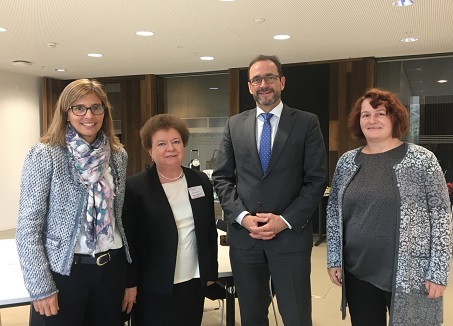 Meeting of the INCB mission with the Federal Office of Public Health (FOPH), Switzerland.
(from left to right) Ms. Diane Steber Büchli, International Drug Policy, FOPH; Dr. Galina Korchagina, INCB member; Mr. Pascal Strupler, Director-General, FOPH; Ms. Andrea Arz de Falco, Vice Director and Head of Public Health Directorate, FOPH