INCB mission to France
VIENNA, 11 June 2018 - From 4 to 7 June, the Board conducted a mission to France to discuss the implementation of the international drug control legal framework with national stakeholders. The mission was led by Prof Jallal Toufiq, First Vice-President of the Board, accompanied by Mr Paul Rabbat of the INCB Secretariat and was coordinated by the Interministerial Committee on drugs and addictive behaviours ( Mission Interministerielle de lutte contre la drogue et les conduites addictives).
The INCB delegation held meetings with the Minister of Solidarities and Health, the President of the Interministerial Committee on drugs and addictive behaviours,  the President of the law commission of the French National Assembly, members of Parliament as well as senior officials from the Ministries of Foreign Affairs, Justice, Health, Education and Interior, representatives of customs and law enforcement agencies as well as health regulatory authorities. A meeting and exchange of views was also held with representatives of French civil society groups.
The INCB representatives held discussions with the French Observatory of Drugs and visited a drug consumption room, the Pierre Nicole treatment and prevention facility and the Psychiatric facility at Bichat Hospital. A further site visit was undertaken to a customs facility at Roissy Charles de Gaulle airport.
The mission's findings will be presented to the Board at its 123 rd session to be held in November 2018.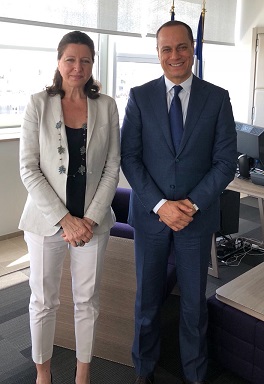 Photo: Ms. Agnes Buzyn, Minister of Solidarities and Health and Prof. Jallal Toufiq, First Vice-President of the Board