INCB mission to Jordan
VIENNA, 10 October 2019 - From 7 to 9 October 2019, the International Narcotics Control Board (INCB) conducted a country mission to the Hashemite Kingdom of Jordan. The mission was led by Prof. Jallal Toufiq, who was accompanied by Ms Tatiana Jehl of the INCB secretariat.
The mission was organized by the Jordanian Food and Drugs Administration. The objective of the mission was to discuss the Jordanian Government's implementation of the three international drug control conventions, examine drug policy developments since the last mission of the Board in 2009 and to assess what drug-related issues face the country.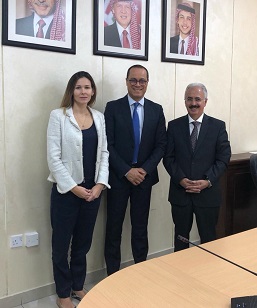 (From right to left):) Judge Ziad AL-Dumor, Secretary General of the Ministry of Justice, Prof. Jallal Toufiq, member of the Board, and Ms Tatiana Jehl, INCB secretariat.
While in Amman, the INCB delegation held meetings with Government stakeholders involved in the country's drug control efforts including the Ministry of Justice, the Jordanian Food and Drugs Administration, the Anti-Narcotics Department of the Public Security Directorate, the Ministry of Education, the Ministry of Foreign Affairs and Customs. The delegation also visited public drug rehabilitation centers. In addition, meetings were held with non-governmental organizations and representatives of public and private health institutions working in the area of palliative care and pain management.
The findings of the mission will be considered by the Board at its 126th session in November 2019.