INCB mission to Madagascar
VIENNA, 13 September 2019 - From 10 to 13 September 2019, the Board conducted a mission to the Republic of Madagascar with the objective of discussing the Malagasy Government's implementation of the three international drug control conventions. A previous INCB mission to the country took place in 2004.
The mission was led by Prof. Sevil Atasoy, Member of the Board, who was accompanied by Mr. Paul Rabbat, Chief of the Convention Evaluation Section of the INCB secretariat.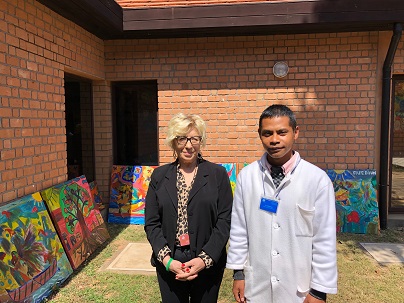 Photo: Professor Sevil Atasoy, Member of the Board and Dr Ando Christian Ramparany, Médecin coordinateur, Centre Hospitalier Privé Saint Benoit Menni

While in Antananarivo, the INCB delegation held talks with Government stakeholders involved in the country's drug control efforts including the Ministry of Public Health, the Ministry of Foreign Affairs, the Ministry of Public Security, the National Police, the Gendarmerie and Customs. The delegation also visited public and private health institutions and companies involved in the import of narcotic drugs, psychotropic substances and precursor chemicals.
The delegation's findings will be discussed by the Board at its 126th session scheduled to take place in November 2019.