INCB Mission to New Zealand
VIENNA, 26 September 2019 - The International Narcotics Control Board (INCB) recently undertook a country mission to New Zealand from 23 to 26 September 2019. The mission was led by Prof. Richard Mattick, Member of the Board, who was accompanied by Mr. Martin Dessart of the INCB secretariat.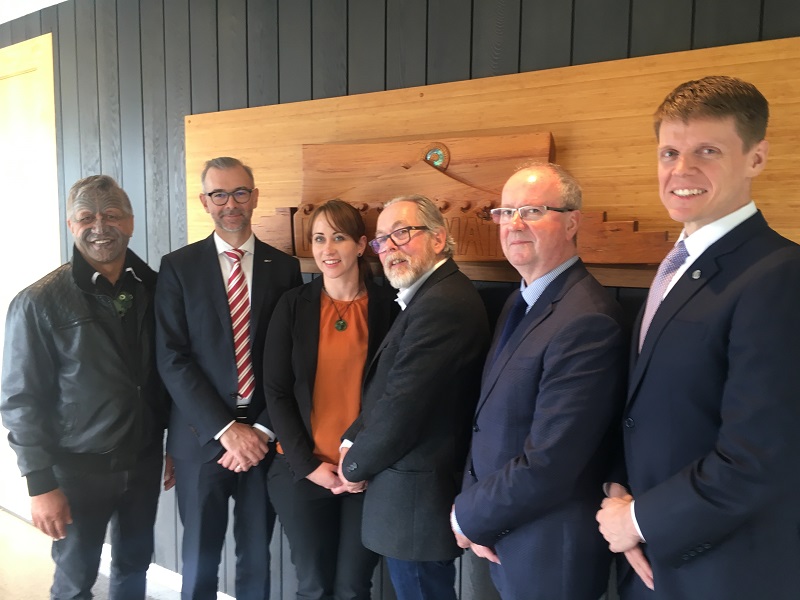 INCB delegation with officials of the New Zealand Government and staff from Higher Ground.
The objective of the mission was to review the implementation of the three international drug control conventions by New Zealand, examine drug policy developments since the last mission of the Board in 1996 and assess what emerging drug control issues face the country. The mission was organized by the Ministry of Health of New Zealand.
During the country visit, the mission met with H.E. Hon. Andrew Little, Minister of Justice and H.E. Hon Dr David Clark, Minister of Health. Additionally, the mission held meetings with officials from the Ministry of Health, Ministry of Justice, Ministry of Foreign Affairs and Trade, New Zealand Police and New Zealand Customs. The mission also conducted a site visit of Waitematā CADS and Higher Ground, drug and addiction treatment facilities in Auckland. Additional meetings were held with the secretariat of the Pacific Islands Chiefs of Police as well as the New Zealand Drug Foundation.
The findings of the mission will be considered by the Board at its 127th session in February 2020.