INCB mission to Austria

VIENNA, 21 June 2019 - From 17 to 19 June 2019, the INCB conducted a mission to Austria to review the country's experiences and practices in fulfilling the aims of the international drug control conventions. The mission was led by Ambassador (ret.) David Johnson, member and vice-president of the Board, assisted by Ms. Karin Esposito of the INCB secretariat. The mission was organized by Austria's Federal Ministry of Labour, Social Affairs, Health and Consumer Protection.
The mission met with Federal Minister for Labour, Social Affairs, Health and Consumer Protection, Brigitte Zarfl, and senior officials from the Ministries of Interior; Constitutional Affairs, Reforms, Deregulation and Justice; and Finance. In addition, the INCB mission visited an outpatient treatment center and met with the leader of Checkit!, a mobile illicit drug evaluation service. A meeting with the Austrian Agency for Food and Health Safety (AGES) focused on the Austrian Government's cultivation of cannabis to be exported and processed for medical purposes. Consultations were also held with multiple civil society groups and the mission visited a correctional services center dedicated to the treatment of drug offenders.
The findings of the mission will be reviewed by the Board at its 126th session in November 2019.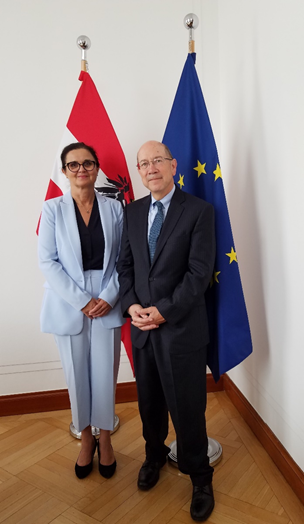 Photo: INCB Board Member Ambassador (ret.) David Johnson meets the Minister for Labour, Social Affairs, Health and Consumer Protection, the Honorable Brigitte Zarfl