INCB mission to Kosovo

PRISTINA, 28 June 2019 - From 23 to 27 June 2019, the INCB conducted a mission to Pristina, Kosovo [1] to review the drug control situation there with a view of facilitating access to controlled substances while preventing their diversion.
The mission was led by Ambassador (ret.) David Johnson, Member of the Board, supported by Mr. Nodirjon Ibragimov of the INCB secretariat. The mission was facilitated by the United Nations Interim Administration Mission in Kosovo (UNMiK).
The delegation met with the representatives of Kosovo agencies involved in pharmaceutical regulation; the administration of justice, including prosecutorial services and the judiciary; law-enforcement, customs and forensics; and public health, addiction treatment and rehabilitation.
The INCB delegation also met with leaders of the international community supporting local institutions, including the EU Office in Pristina, EULEX, the OSCE Mission, UNDP, UNODC, and UNMiK. In addition, meetings were held with officials from the NGO "Labyrinth", which provides opioid substitution treatment and other elements of a comprehensive treatment and reintegration programme and with the leader of the NGO Community Development Fund, which supports "Labyrinth". 
The findings of the mission will be reviewed by the Board at its 126 th session in November 2019.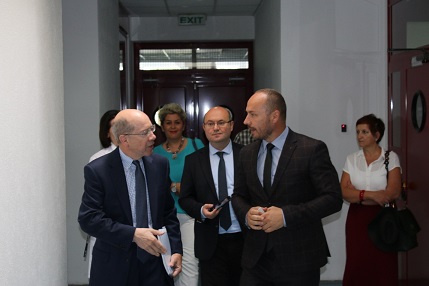 Photo: INCB Board Member Ambassador (ret.) David Johnson meets Mr. BlerimOlluri, Executive Director, and other representatives of the Kosovo Forensic Agency
---
[1] All references to Kosovo in this article should be understood to be in the context of Security Council resolution 1244 (1999).