INCB mission to Norway

VIENNA, 28 May 2019 - An INCB mission visited Norway from 21 to 23 May 2019, with the goal of discussing the country's implementation of the three international drug control conventions and reviewing the drug control situation in the country.  The mission was led by Dr. Galina Korchagina, Member of the Board, accompanied by Ms. Ha Fung Ng (Cilla) of the INCB secretariat.
The INCB mission met with the Minister of Health and Care Services, the State Secretary and senior officials from the Ministry of Justice and Public Security, the Directorate of Health, the Director General and senior officials of the Norwegian Medicines Agency, the Directorate of Norwegian Customs, senior officials from the Public Health Institute and the Ministry of Foreign Affairs, and the secretariat of the public committee responsible for drug reform. The mission also met with representatives from the Municipality of Oslo and visited the drug consumption room.
The mission held discussions with representatives of the civil society and the World Health Organization Collaborating Centre for Drug Statistics Methodology, part of the Norwegian Institute of Public Health.
The findings of the mission will be reviewed by the Board at its 126th session in November 2019.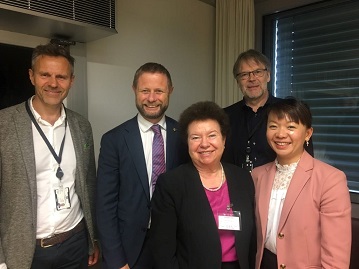 Meeting of the INCB mission with the Ministry of Health and Care Services (MoH), Norway
(Back row: from left to right): Mr. Per Gunnar Dahl, Senior Adviser, MoH; Mr. Bent Høie, Minister, MoH; Mr. Torbjørn Brekke, Senior Drug Policy Adviser, MoH
(Front row: from left to right): Dr. Galina Korchagina, INCB Board Member, and Ms. Ha Fung Ng (Cilla), INCB secretariat