120th Session - Consultation between INCB and Nepal 
Vienna, 14 November 2017 - During the 120th session, the International Narcotics Control Board (INCB) President, Dr. Viroj Sumyai, held consultations with H.E. Mr. Prakash Kumar Suvedi, Ambassador Extraordinary and Plenipotentiary Permanent Representative of Federal Democratic Republic Nepal.
In the meeting, Dr. Sumyai took the opportunity to commend Nepal for their cooperation, support and recalled Nepal's participation at INCB's July 2016 training in Bangkok.
Discussing both positive efforts and challenges, such as the trafficking of cannabis from Nepal to India, H.E. Mr. Suvadi conveyed the State's needs and eagerness to continue to work with INCB to build capacities against illicit drug matters. Dr. Sumyai expressed that the Board is "ready to provide any support in its capacity to the Member States." Additionally, Dr. Sumyai explained the available training, seminars, and workshops for countries in South Asia, such as the Colombo Plan and its Drug Advisory Programme as well he emphasized the importance of INCB missions.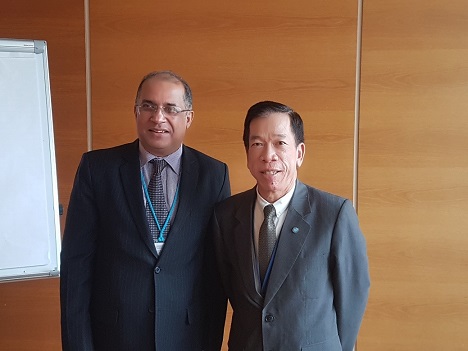 H.E. Mr. Prakash Kumar Suvedi (left) and INCB President Dr. Viroj Sumyai (right)