INCB President participates in UNODC 20 th anniversary event and meets with Representatives of Member States  
Vienna, 15 September 2017 - Speaking at the special event to commemorate the twentieth anniversary of the United Nations Office on Drugs and Crime (UNODC), Dr. Viroj Sumyai, INCB President, stressed the importance of cooperation between INCB and UNODC.
Dr. Sumyai highlighted the complementary nature of the mandates of INCB and UNODC, as set out in the three drug control conventions and by the General Assembly, Economic and Social Council and Commission on Narcotic Drugs.  The INCB President congratulated the Executive Director and staff of UNODC on the anniversary, and noted that the Board looks forward to continuing to work closely with UNODC, particularly in the implementation of the operational recommendations of the 2016 special session of the General Assembly on the world drug problem.
Also on the occasion of the twentieth anniversary of UNODC, the INCB President met with the Executive Director of UNODC, Mr. Yury Fedotov, their first such bilateral meeting since the election of the INCB President in May 2017.  The meeting included an exchange of views on developments in international drug control and a discussion on the importance of institutional support for the work of the Board, particularly given that the Board's secretariat is located, for administrative purposes, within the United Nations Office on Drugs and Crime.
While in Vienna, the INCB President held meetings with the Permanent Representative of Canada, H.E. Ms. Heidi Hulan, and the Chargé d'Affaires of Permanent Mission of the Russian Federation, Mr. Georgy Mikhno.  Dr. Sumyai also had a discussion at the margins of the UNODC anniversary event with the Chair of the Vienna NGO Committee on Drugs, Mr. Esbjörn Hörnberg.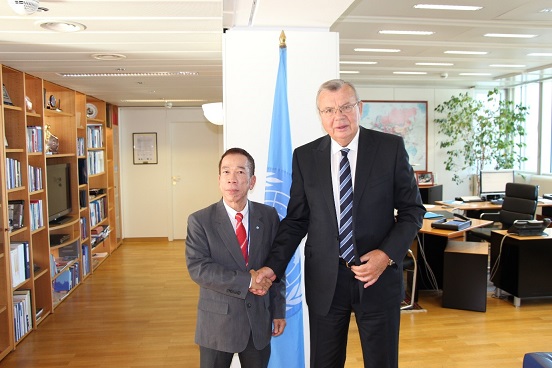 INCB President, Dr. Viroj Sumyai, meets with UNODC Executive Director, Mr. Yury Fedotov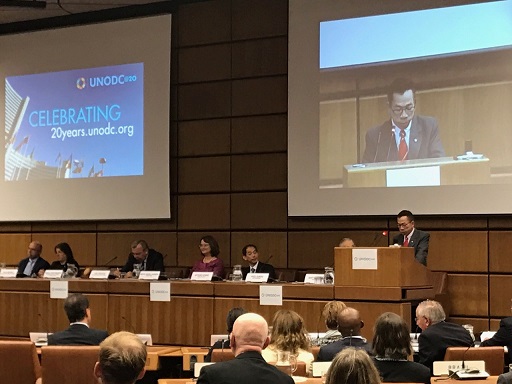 INCB President, Dr. Viroj Sumyai, speaking at the UNODC 20 th anniversary event at the Vienna International Centre