INCB's 2017 Annual Report and Precursors Report released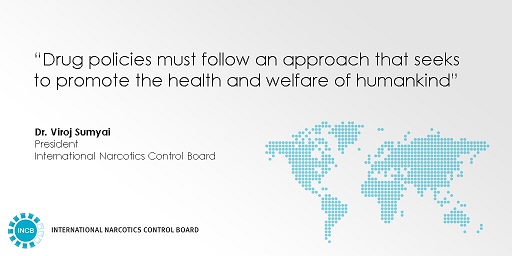 Vienna, 7 March 2018 - International Narcotics Control Board (INCB) President, Dr. Viroj Sumyai released the INCB Annual Report for 2017 that highlights human rights and has a thematic focus on treatment, rehabilitation and social reintegration for drug use disorders on 1 March 2018.
The Report comes ahead of the 70th anniversary of the United Nations Universal Declaration of Human Rights and takes a closer look at the links between human rights and drug policy.

INCB provides an analysis of the current world situation and makes recommendations to help States take effective measures to address drug-related challenges in full compliance with international human rights standards and norms.

Journalists from various regional and international news outlets joined the launch in Vienna and also via webcast, and engaged in an interactive discussion. During the launch, Dr. Sumyai called on States to ensure that drug control measures fully comply with international human rights standards and norms.

Concluding the event, Dr. Sumyai said: "Although challenging, drug use disorders are treatable health conditions for which effective treatment and rehabilitation interventions are available.
Working in the spirit of the international drug control system and implementing the recommendations in INCB's Annual Report, all Governments can positively support their commitments to promoting the health and welfare of humankind."