INCB holds consultations with WHO
and the Heads of UNODC, CND and ECOSOC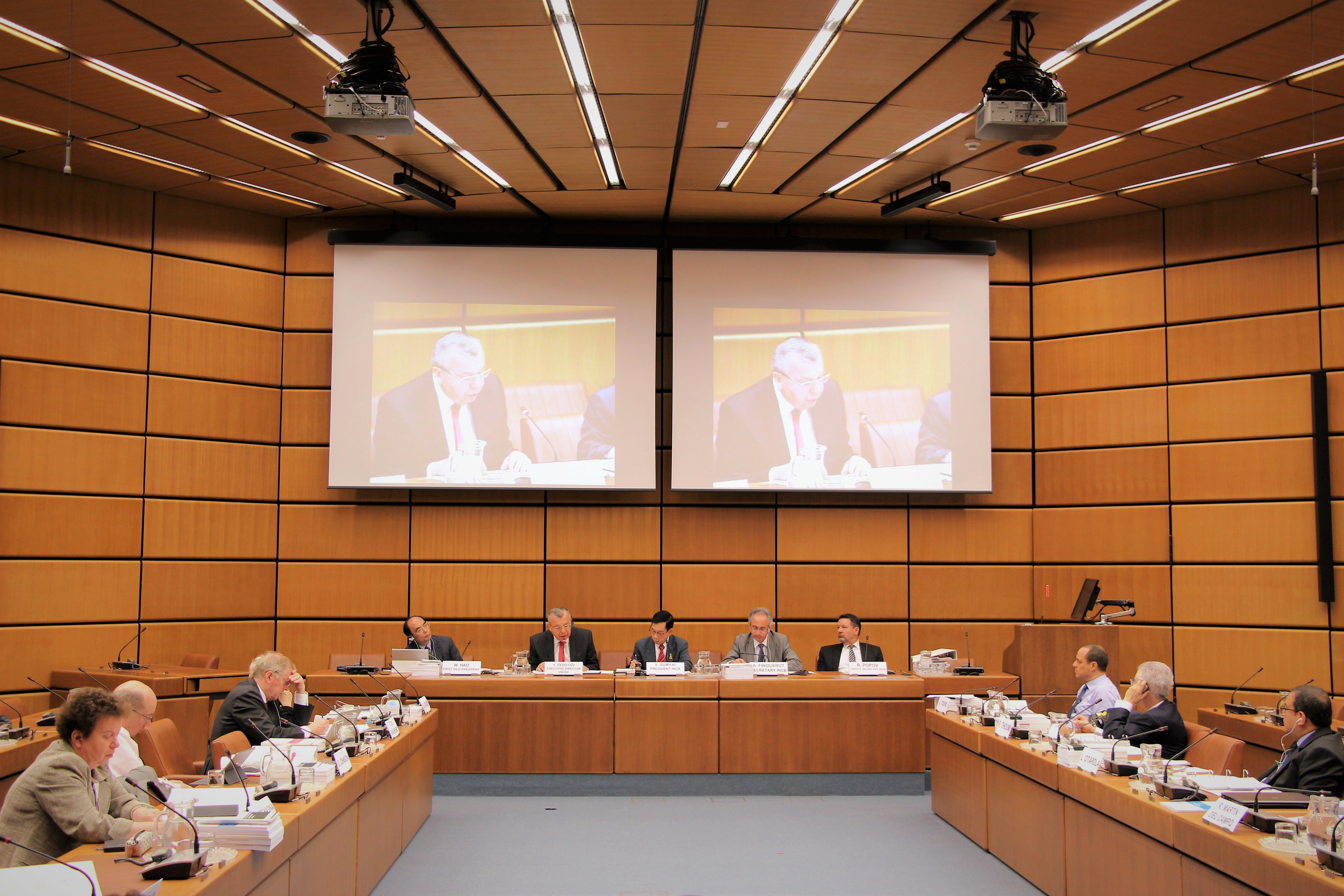 VIENNA, 24 May 2018 - At its 122nd session, INCB held consultations with the Executive Director of the United Nations Office on Drugs and Crime (UNODC), Mr. Yury Fedotov, the Chair of the Commission on Narcotics Drugs (CND), Her Excellency Ambassador Alicia Buenrostro Massieu of Mexico, the President of the United Nations Economic and Social Council (ECOSOC), Her Excellency Ambassador Marie Chatardová of the Czech Republic. INCB also met senior officials from the World Health Organization (WHO).  The 122nd session of the Board took place from 7 to 18 May 2018.
At its meeting with the heads of UNODC and the Commission, deliberations focused on developments in the international drug control framework and its application as well as the world drug situation. A central topic was the outcome of the 61st session of Commission that took place in March, which saw the adoption of several important resolutions, decisions to place 12 new psychoactive substances under international control and the preparations for the ministerial meeting of the Commission in 2019.
The role of civil society in drug matters and their positive cooperation with UN organs and Governments were highlighted. The Chair of CND briefed the INCB members about her exchange with civil society representatives during the 61st session of the Commission and welcomed the Board's recent meeting with NGO representatives.  
During the Board's meeting with the Executive Director of UNODC, the joint statement presented at the Commission by INCB, UNODC and WHO on the implementation of the UNGASS 2016 recommendations and possible follow-up action was discussed. The INCB members invited Mr. Fedotov to share his views on a range of current issues related to the implementation of the three drug control conventions, including new drug-related legislation and the situation regarding illicit opium poppy cultivation in Afghanistan.  Trends in illicit coca bush cultivation in the Andean countries were also examined.
The President of ECOSOC highlighted the important links between human rights and the achievement of the Sustainable Development Goals 2030 (SDGs), on the one hand, and drug control policy. The exchange also centred on critical developments related to the non-medical use of cannabis and the opioid overdose challenge in North America.
The exchange with WHO covered the recently released WHO report on World Health Statistics 2018 and the SGDs, the work of INCB's Project Ion on preventing non-scheduled new psychoactive substances from reaching consumer markets, and the  preparation of the forthcoming General Assembly High-level meeting on the prevention and control of non-communicable diseases to be held in September 2018.
As part of its commitment to concerted international action towards countering the world's drug problem, the Board will continue its regular consultations with relevant international organizations.