INCB President participates at General Assembly high-level meeting on non-communicable diseases
NEW YORK/VIENNA, 27 September - INCB President, Dr. Viroj Sumyai, addressed yesterday the third General Assembly high-level meeting on non-communicable diseases. 
Contributing to the high-level meeting, the INCB President urged Member States to prevent and address drug abuse and drug use disorders within the NCD framework.  Dr. Sumyai emphasized that drug use disorders are a mental health concern that is preventable, treatable and curable, and that prevention of drug abuse must be included in efforts to change lifestyle and habits, in the same way that other diseases are being prevented.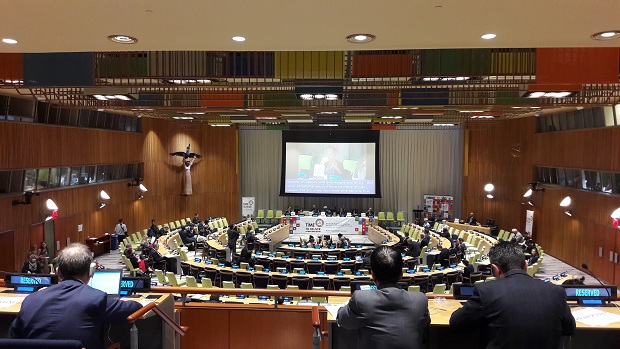 Dr. Sumyai called on Member States to improve the availability and accessibility of internationally controlled substances for medical purposes, noting their importance in the treatment of disease and management of symptoms, such as pain. Reference was made to an upcoming report to be launched by the Board that will provide an update on the global imbalance in the consumption of narcotic drugs and psychotropic substances and propose remedial measures.
In the context of the right to health and promoting health and well-being, Governments were urged to step up their efforts in three areas:
(I)    To ensure availability and accessibility of controlled medicines, Governments must ascertain that levels of estimated requirements are sufficient to meet the real needs;
(ii)     National NCD prevention and treatment plans should include drug use disorders;
(iii)    Governments should ensure resources and training to enable health professionals to prevent, diagnose and treat drug use disorders.
On 27 September, Dr. Sumyai was a keynote speaker at the side event "Improving availability of internationally controlled drugs and psychotropic substances for medical and scientific purposes, with a specific focus on pain relief."
Also speaking at the opening of the side event were the Minister of Social Affairs and Health of Belgium, the Executive Director of UNODC, and the Director General of the World Health Organization. Dr. Brendan Murphy, Chief Medical Office or Australia, Dr. Emmanuel B.K.  Luyirika, Executive Director, African Palliative Care Association, and the Chief of the Union for International Cancer Control also spoke at the event.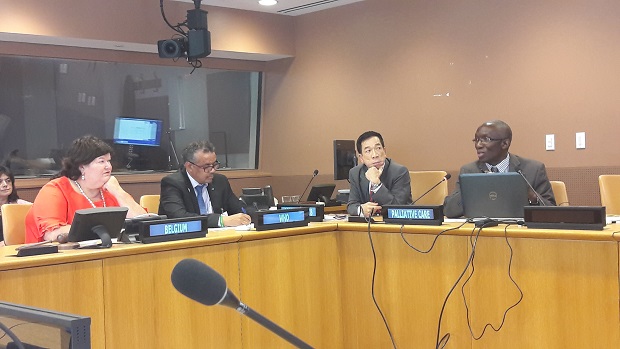 Mrs. Maggie De Block, Minister of Health of Belgium, Dr Tedros Adhanom Ghebreyesus, Director General of the World Health Organization , Dr. Viroj Sumyai, President of the International Narcotics Control Board and Dr. Emmanuel B.K. Luyirika, Executive Director of the African Palliative Care Association
Concluding, Dr. Sumyai encouraged Member States to review legislation and regulatory systems, improve the health systems and the infrastructure to deliver health care; ensure that medicines are affordable; ensure that the pharmaceutical industry produces affordable medicines; improve training for health care professionals; allow nurses to prescribe controlled substances, where needed; improve their estimates and assessment of needs and support other countries to do so, also by supporting INCB Learning global initiative, speed-up the import and export processes for controlled substances, including by using the INCB platform I2ES, and above all, include palliative care and mental health as part of national health care strategies.
During his visit to UN Headquarters, Dr. Sumyai took the opportunity to meet with the President of the Economic and Social Council, H.E. Inga Rhonda King.