INCB President participates in 61st session of the Commission on Narcotic Drugs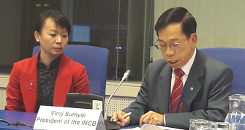 VIENNA, 20 March 2018 - The President of the International Narcotics Control Board (INCB), Dr. Viroj Sumyai, represented the Board at the 61st session of the Commission on Narcotic Drugs held in Vienna from 12 to 16 March.
In addition to addressing the plenary at the opening of the session, and on agenda items relating to the work of the Board, Dr. Sumyai spoke at a number of side events, and met with the delegations of 26 Member States.At a special event on 12 March, the INCB President thanked the Heads of the United Nations Office on Drugs and Crime (UNODC) and the World Health Organization (WHO) for accepting his invitation to engage in a joint initiative to further support Member States in implementing the outcome document of the thirtieth special session of the General Assembly on the world drug problem (UNGASS 2016). Following the event, the Heads of INCB, UNODC and WHO issued a joint statement, " Working together for the  health and welfare of humankind". 
On 13 March, Dr. Sumyai spoke at the side event "Increasing access to controlled medicines for medical purposes: focus on Africa", organized by the Governments of Belgium, France, Kenya and Nigeria, the International Association for Hospice and Palliative Care, the Union For International Cancer Control (UICC), INCB, UNODC and the Vienna NGO Committee on Drugs.
At an INCB side event on 15 March, the President of the Board and members of its secretariat launched new tools aimed at enhancing the capacity of state parties to meet data reporting obligations, to help ensure the availability of controlled medicines while preventing their diversion and abuse.
On 16 March, the INCB President opened the 3rd user group meeting of I2ES. On the same day, and as part of the Board's ongoing dialogue with civil society, Dr. Sumyai held an informal dialogue with the members of the Vienna NGO Committee on Drugs. Following a brief overview on the focus of the 2017 Annual Report, the INCB President engaged in a question-and-answer discussion with the civil society representatives.
The bilateral consultations with delegations of Member States provided a valuable opportunity to further the Board's dialogue with Parties to the conventions. Issues discussed included treaty adherence and compliance, the national drug control challenges and achievements, proposed missions of the Board, and participation in INCB initiatives, such as INCB Learning, I2ES, PEN-Online, PICS and IONICS. Throughout the week, open-door consultations and technical support were provided to Governments by staff of the INCB secretariat on the operation of INCB tools and on issues relating to reporting to the Board.