INCB / UPU partnership responds to deadly synthetic opioids
"Operational agreement between the two UN bodies sends strong message to drug traffickers to stay away from world's postal services"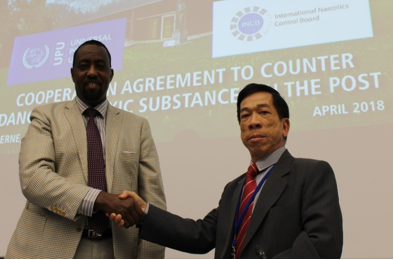 BERN/VIENNA, 19 April 2018 - Synthetic opioids trafficked among the millions of letters and e-commerce packets will get a lot harder following an agreement signed between the International Narcotics Control Board (INCB) and the Universal Postal Union (UPU). The signing by Dr. Viroj Sumyai, INCB President, and Ambassador Bishar A. Hussein, UPU Director General took place at the international Postal Operations Council meeting held at the UPU headquarters in Bern.
"Today's global drug landscape is far more complex and challenging than 30 years ago, when the last international drug control treaty was signed. Now there is a specific urgency to stem the increasing illicit flow of deadly fentanyl-related substances wherever they are encountered," INCB President Dr. Viroj Sumyai, said in his speech to members of the Postal Operations Council.
"We face a growing public health crisis due to synthetic opioids and other highly toxic substances and UPU is proud to work alongside INCB to protect postal employees, and the health of people everywhere," Ambassador Hussein said at the signing.
At a recent INCB working group meeting on opioids trafficking in January, national experts linked the synthetic opioids crisis to high volume internet and anonymous darknet transactions of fentanyl-related substances, with shipments difficult to interdict within the international letter, parcel and express mail systems. The UPU estimated that 12% of all international post in 2016 was related to international e-commerce purchases, a figure which is expected to increase.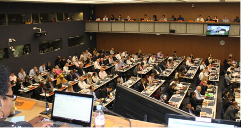 Addressing members of the Postal Operational Council, the President stressed that a fatal dose of fentanyl is as little as 2mg, with other even more potent analogues are being encountered. Dr, Sumyai showed an example of just how minute 2mg is for the members. In response to the grave dangers posed, the UN Commission on Narcotic Drugs (CND) in March unanimously endorsed the recommendation of the World Health Organization to place six more fentanyl analogues under the international controls under the 1961 Single Convention on Narcotic Drugs
INCB activities will be spearheaded under its new global Operational Partnerships to Interdict Opioids' Illicit Distribution and Sales (OPIOIDS) Project. Matthew Nice, manager of the OPIOIDS Project stated, "the thousands of potential fentanyl analogues and the dangers posed from their high toxicity necessitate UN agencies and private partners to engage in practical actions to ensure that the men and women in the postal services, regulatory, law-enforcement and other first-responders at risk of exposure can safely carry out their functions and serve their communities."
The INCB/UPU agree ment responds to these challenges by sharing specific INCB intelligence on known sources of dangerous drugs and their trafficking patterns, as well as information and alerts on dangerous substances of concern. INCB and UPU will also promote technical assistance and training designed to increase cooperation against trafficking and improve the detection and seizure of these substances.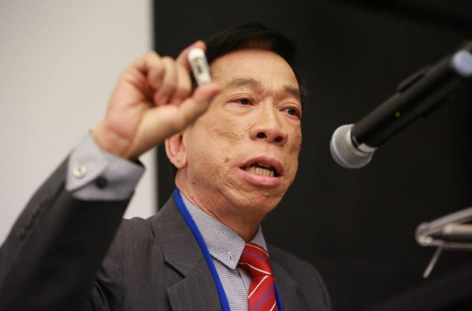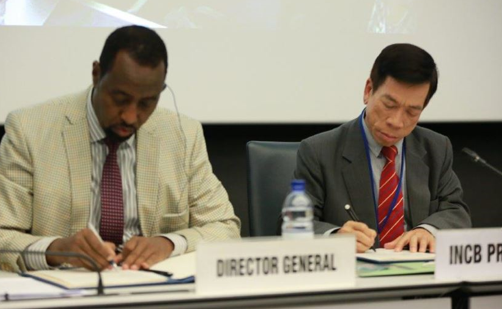 The Vienna-based Board is an independent body, established by the 1961 Single Convention on Narcotic Drugs, to monitor and support governments' compliance with the three international drug control treaties, ensure that adequate supplies of drugs are available for legitimate uses, that diversion of drugs from licit sources into illicit channels does not occur, monitor controls over chemicals frequently used in the illicit manufacture of drugs, and assists in preventing the diversion of those chemicals into illicit channels.
***
Click here to learn more about how the UN agencies are partnering in response to the opioids crisis
Click here to learn more about the INCB treaty mandates, history and projects
Click here to learn more about the INCB global OPIOIDS Project