President of INCB addresses fifth intersessional meeting of Commission on Narcotic Drugs on treaty implementation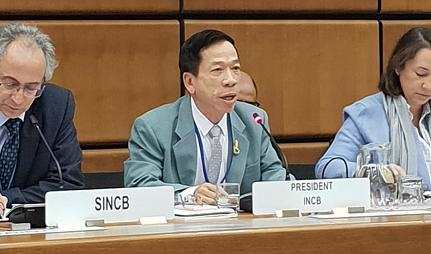 VIENNA, 7 November 2018 - The Commission on Narcotic Drugs held its fifth intersessional meeting today in Vienna, Austria.
The meeting included a normative segment dedicated to the implementation of the three international drug control treaties, in view of recent policy developments.
Upon invitation of the Chairperson of the Commission, the President of the International Narcotics Control Board, Dr. Viroj Sumyai addressed the meeting, in consideration of the role of INCB in monitoring and promoting the implementation of the conventions on drug control. Dr. Sumyai's statement at the event is available here.
In his remarks, President Sumyai first emphasized the fundamental role of the conventions in safeguarding "the health and welfare of humankind by ensuring the availability of narcotic drugs and psychotropic substances for medical and scientific use, preventing drug abuse and providing treatment for those affected by drug use, as well as tackling the diversion of controlled substances and precursors chemical to illicit activities". Dr. Sumyai underlined that "inadequate and incomplete implementation of the treaties by Governments has sometimes had negative repercussions on areas of drug control", contributing to a narrative that challenges "the consensus embodied in the international drug conventions".
In this sense, the President drew attention to the issue of respect for human rights, affirming that "any State action which violates human rights in the name of drug control policy, whatever its objective may be, is fundamentally inconsistent with the international drug control conventions" and confirming the complementarity of the conventions with the UN human rights treaties."
Special consideration was given to criminal justice policies which are disproportionate with respect to drug-related offences and the issue of systemic discrimination due to the lack of prevention initiatives.
Dr. Sumyai concluded his remarks by reiterating that "the legalization and regulation of controlled substances for non-medical purposes is a clear violation of the international drug control legal framework and undermines respect for the agreed international legal order", commenting on recent developments in a few States.
In highlighting the importance of ensuring availability of and access to internationally controlled substances for medical and scientific purposes, and that such access should not be unduly restricted, Governments were urged to cooperate to address the emergency situations caused by natural or humanitarian disasters, such as those that sadly occurred in the past year.
The words of President Sumyai at the fifth intersessional meeting of the Commission assumed greater significance, taking place immediately after the INCB meeting with Member States on the occasion of its 50th anniversary and in parallel with its ongoing 123rd session, during which INCB has been working to advance the implementation of the conventions among Member States.