Strengthening international postal security within the Caribbean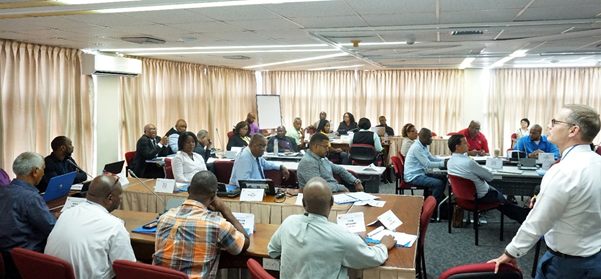 BRIDGETOWN, 3 May 2019 - The INCB global OPIOIDS Project participated in the Universal Postal Union (UPU)-World Customs Organization (WCO) Joint Security Capacity Building Workshop in the Caribbean region to strengthen capacity to address trafficking of dangerous substances through the international mail, held from 30 April to 3 May, at the UPU Training Centre in Barbados. The training included officers from 20 Caribbean countries and territories and was a practical outcome of the UPU-INCB cooperative agreement signed in May 2018.
Twenty-eight (28) officers from postal security and customs units located in Anguilla, Antigua and Barbuda, Aruba, Barbados, Belize, Bermuda, Bonaire, Cayman Islands, Dominica, Grenada, Guyana, Haiti, Jamaica, Montserrat, St. Kitts and Nevis, St. Lucia, St. Vincent and the Grenadines, Suriname, Trinidad and Tobago and Turks and Caicos Islands, were joined by nine experts from the UPU, WCO, UNODC and INCB, in the four-day training event. INCB trained officers to identify and share information on the sources and distribution of dangerous substances, such as fentanyls, currently trafficked through the postal and express courier streams, and to apply safe interdiction methods.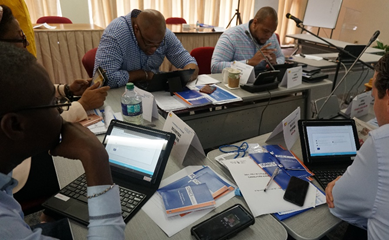 Photo: INCB trained officers on features of the IONICS platform using its rapid training appro ach
Participants highlighted the need for practical information exchange and collaboration with national and international agencies and enhanced capacity building to effectively respond to the threats posed by the illicit manufacture, trafficking and abuse of non-medical use of synthetic opioids. Experts stressed the importance of strengthening existing multi-agency collaboration and intelligence sharing tools available to the Caribbean region, such as those provided by the WCO, UPU and INCB. Dawn Wilkes, UPU Security Programme Manager, further stressed the importance of using available expertise within the Caribbean to sustainably respond to, and communicate threats of, dangerous substances in the mail stream.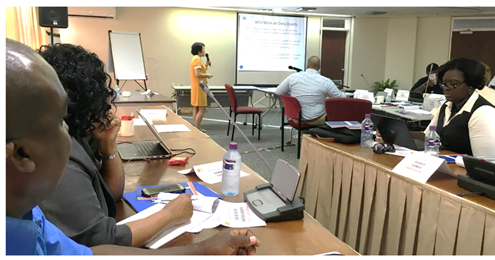 Photo: Hong Nguyen, WCO technical officer lectured on the importance of data quality for use in risk profiling
Matthew Nice, global manager of Project OPIOIDS, and Wayne Ho, WCO technical attaché, provided information, instruction and training materials on the appropriate handling of dangerous substances shipped through the international post, express mail and courier services. Mr. Nice stated, "providing knowledge and skills training to frontline officers is fundamental to addressing the global opioids crisis them performing their jobs safely." Officers also received practical training on the effective use of the IONICS communication platform to send and receive intelligence and alerts that support domestic and international trafficking investigations.
The Board's global OPIOIDS Project and Project ION support Governments' capacity to respond to changing trafficking, online marketing and sales patterns of NPS, non-medical synthetic opioids and fentanyl-related substances and their precursors, by building trust, improving communication and facilitating information sharing that interdict distribution of these dangerous substances. 
Click here to learn more about the OPIOIDS Project
Click here to learn more about the Project ION