INCB offers tools to counter trafficking in the Pacific at the 21 st
Oceania Customs Organisation Conference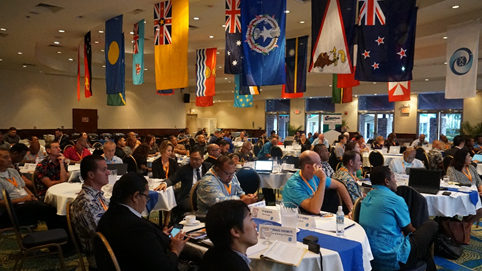 SAIPAN, Commonwealth of the Northern Mariana Islands, 15 May 2019 - INCB participated in the 21st annual Oceania Customs Organisation (OCO) conference to highlight challenges in addressing trafficking in synthetic drugs and related substances to, and through, the region's small island states. The 3-days conference aimed to strengthen international relationships among governments and international agencies, expand partnerships and cooperation, enhance trade, and protect citizens and the security of their borders.
Mr. Jose Mafnas, Director of the Commonwealth of the Northern Mariana Islands (CNMI) Customs opened the conference, along with statements by CNMI Governor Honorable Ralph Torres and the Secretary for OCO, Mr Roy Lagolago, among others, and brought together nearly 100 officials from twenty-one (21) members including American Samoa, Australia, Commonwealth of the Northern Mariana Islands, Cook Islands, Federate States of Micronesia, Fiji, Guam, Kiribati, Nauru, New Caledonia, New Zealand, Niue, Palau, Papua New Guinea, Republic of Marshall Islands, Samoa, Solomon Islands, Tonga, Tuvalu, and Vanuatu. OCO members were joined by experts from the Japan, Republic of Korea, the United States, and numerous regional and international groups including the Transnational Crime Coordination Centre, Pacific Islands Chiefs of Police, Joint Interagency Task Force West (JITF-W), WCO and other international agencies and private sector stakeholders.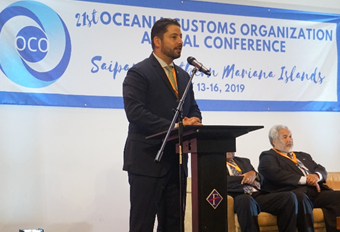 Photo: Mr Ricardo Trevino, WCO Deputy Secretary General for highlighted the need for advance data to address immediate air cargo security risks

 Participants stressed the need of increased collaborative efforts for practical information exchange with regional and international agencies and enhanced capacity building to effectively detect, prevent, investigate, and respond to the threats posed by freight forwarding of dangerous substances. Mr. Dave DeLeo, JITF-W representative for Oceania, highlighted the importance of using technology to combat drug-related transnational organized crime in the Pacific, in particular to interdict trafficking in precursors, synthetic opioids and fentanyl-related substances. Experts from OCO further highlighted the importance of existing multi-agency fusion centres to strengthening existing coordination efforts and information sharing mechanisms to address shared security threats in the Pacific region.
INCB presented during a panel on border security and provided information on the current state of trafficking in the region including the evolving modus operandi related to trafficking of fentanyl-related substances via international mail and express courier services. Participants also received demonstration of the IONICS secure communication platform to receive and send intelligence and alerts, designed to function in limited capacity environments. INCB makes this and other intelligence sharing systems available to law enforcement and regulatory investigators around the world, at no cost to governments.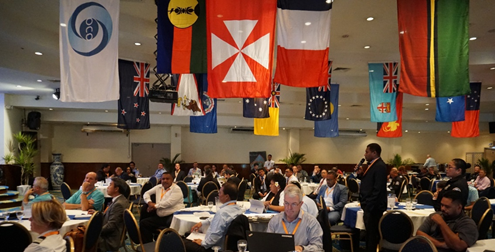 Photo: Panel discussions on regional border security, included INCB tools for addressing synthetic drug trafficking challenges in the Pacific
The Board's global OPIOIDS Project and Project ION support Governments' capacity to respond to changing trafficking, online marketing and sales patterns of NPS, non-medical synthetic opioids and fentanyl-related substances and their precursors, by building trust, improving communication and facilitating information sharing that interdict distribution of these dangerous substances.
INCB's work to develop and expand partnerships and capacity with governments and international organizations in the Pacific was made possible through the generous support of the Government of Australia, Department of Foreign Affairs and Trade.
Click here to learn more about the OPIOIDS Project
Click here to learn more about the Project ION