INCB offers OSCE participating States new approaches and tools to interdict drug trafficking
Vienna, 6 June 2019 - Governments looking for new approaches to address the trafficking in and abuse of new psychoactive substances, including fentanyl-type substances, discovered practical tools during the OSCE annual conference on Combating the Threat of Illicit Drugs and the Diversion of Chemical Precursors entitled "Evolving Threat of Synthetic Drugs" held from the 3 to 4 June 2019.

The diverse group of panelists included experts from the fields of drug abuse prevention, treatment, law enforcement and civil society, who discussed the world drug situation, cooperation within the international drug control system, and promising new practices to address emerging challenges.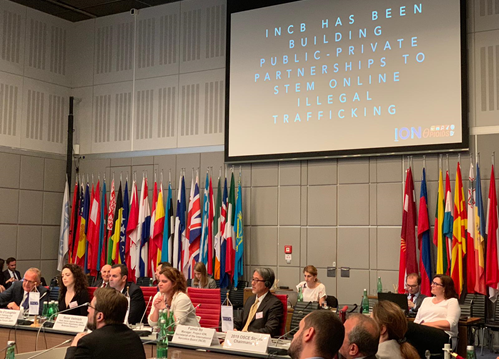 Photo OSCE: INCB showing examples of cooperation with the private sector
Mr. Matthew Nice, manager of the global OPIOIDS Project, gave a presentation detailing sharp increases in seizures of newly available fentanyl-related substances in Europe and increases in opioids-related overdose deaths in a number of OSCE participating States since 2011, highlighting the urgency of the problem. Governments were encouraged to utilize the practical tools offered by INCB, such as the Project ION Incident Communication System (IONICS) and the Precursors Incident Communication System (PICS) to share valuable real-time intelligence related to the illicit manufacture or trafficking of NPS and fentanyls. In addition, a live demonstration of IONICS was given during the presentation.
On the second day of the event, Project ION Manager Mr. Fumio Ito held a presentation on public-private partnerships. Mr. Ito displayed real life examples of how cooperation between the INCB and the private sector can help in tackling the threat of illicit drugs.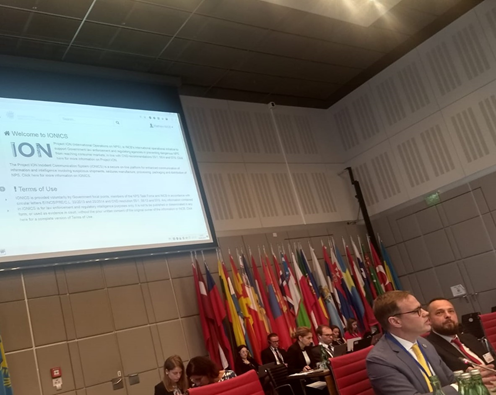 Photo OSCE: INCB is showing a demonstration of the Project ION Incident Communication System (IONICS) to delegates from over 60 countries and members of international organizations
INCB global projects - OPIOIDS, ION, PRISM, and Cohesion - help Governments respond to trafficking in NPS, non-medical opioids and fentanyls, and precursor chemicals, by developing and quickly sharing specific information on their sources and trafficking patterns to Governments and international partners alike.
Click here to learn more about the OPIOIDS Project
Click here to learn more about the Project ION
Click here to learn more about INCB Precursor Controls