Building postal security capacity to identify, interdict and exchange intelligence on dangerous substances in the MENA Region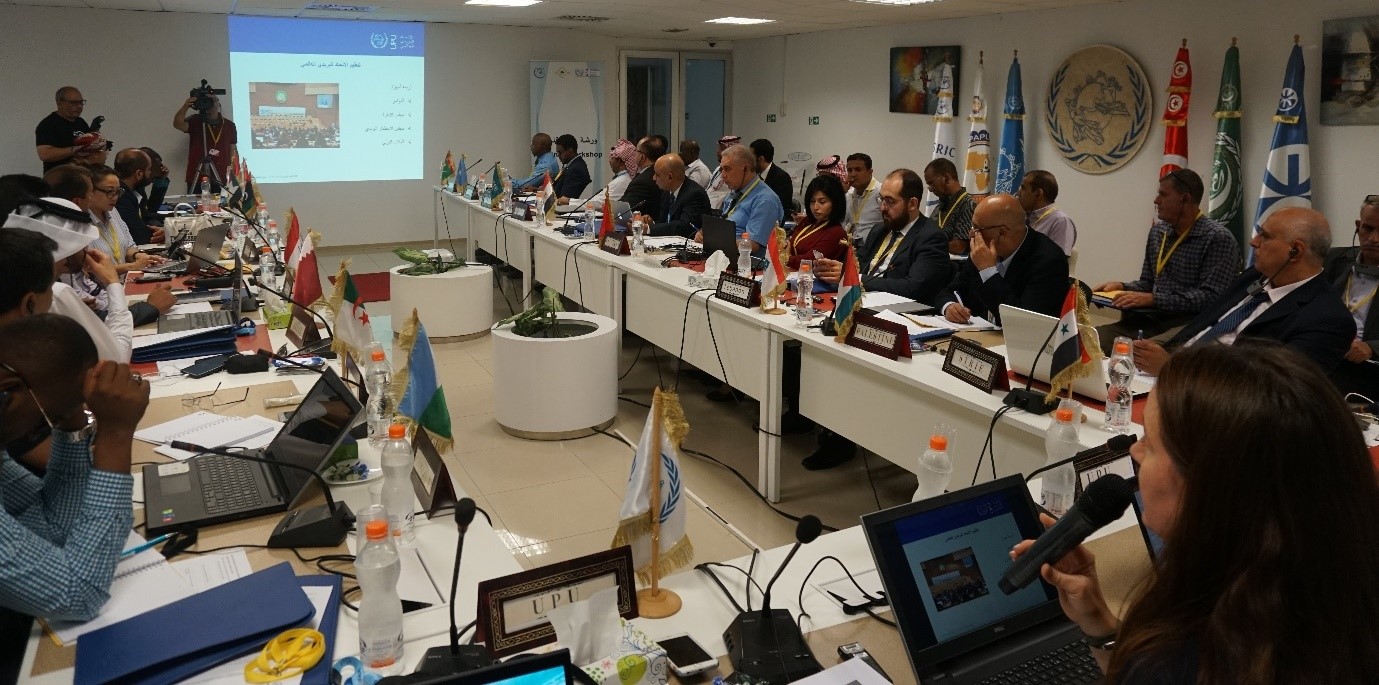 Tunis, 29 August 2019 - International Narcotics Control Board (INCB) experts this week strengthen capacity of postal security operators to address the increasing threats posed by dangerous substances shipped through the international postal network at the Universal Postal Union (UPU) - World Customs Organization (WCO) Joint Security Capacity Building Workshop in the Middle East and North Africa region, held in Tunis. Thirty-seven (37) officers from postal security units located in Algeria, Djibouti, Egypt, Iraq, Lebanon, State of Libya, Mauritania, Morocco, Oman, Palestine, Qatar, Saudi Arabia, Somalia, Sudan, Syrian Arab (Rep.), and Tunisia received information, interdiction and intelligence sharing training to respond to the new global trafficking paradigm of non-scheduled dangerous substances, such as fentanyls, through the postal and express courier streams.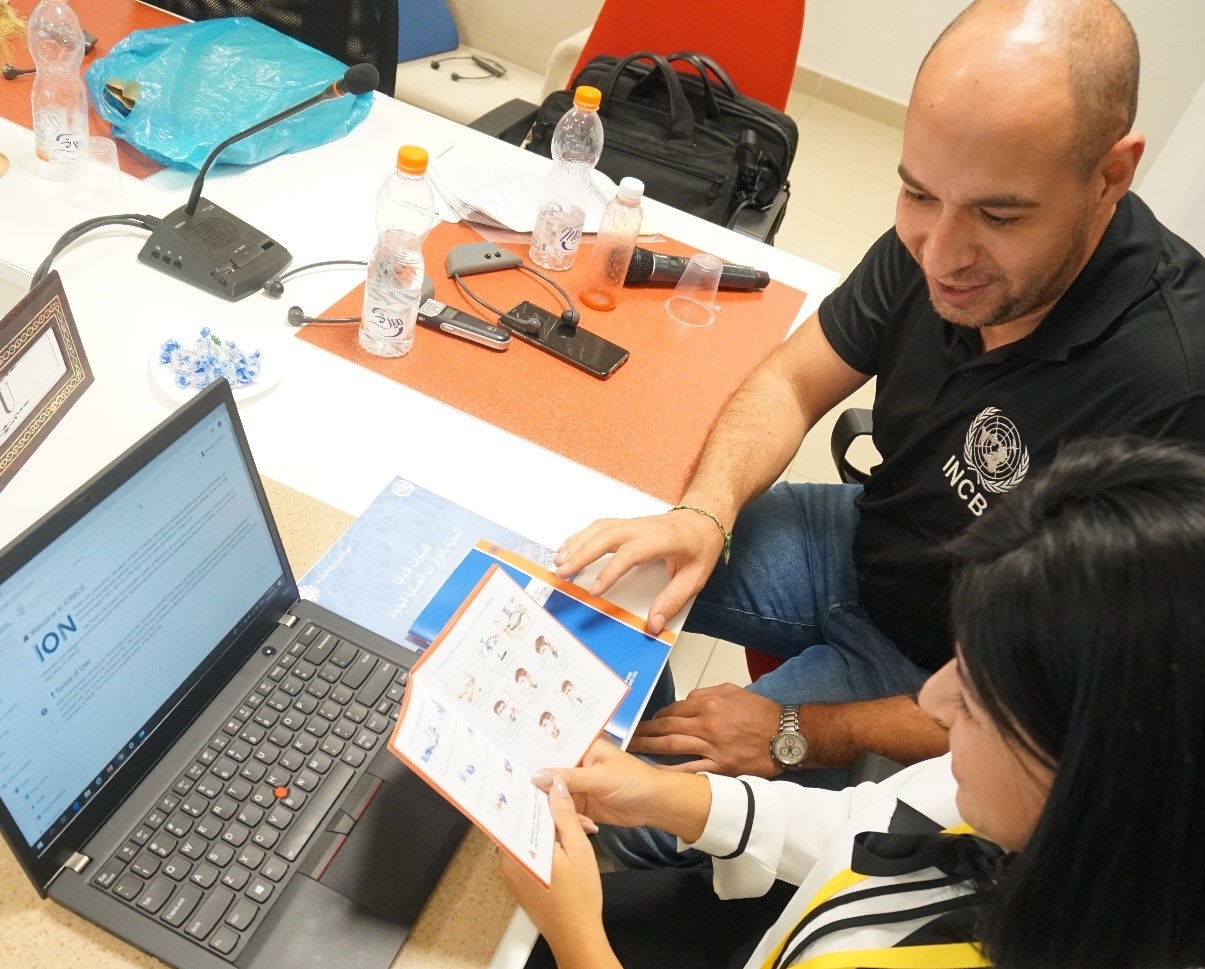 INCB experts provide hand-on training of postal security officers, receiving instruction on features of the IONICS platform in their local languages
Acknowledging the need to improve capacity to identify and interdict new psychoactive substances (NPS) and non-medical synthetic opioids, like tramadol, in the region, participants highlighted the need for practical information exchange and collaboration with national and international agencies to effectively respond to the threats posed by traffickers. INCB experts highlighted the importance of global intelligence sharing tools available to the region, such as those provided by the WCO, UPU and INCB during the four-day training.
Dawn Wilkes, UPU Security Programme Manager, stressed the importance of using available expertise within the region to sustainably respond to, and communicate threats of, dangerous substances in the mail stream. "Partnering with the primarily private postal operators in the MENA region during the weeklong workshop in Tunisia, facilitated a greater understanding of the necessity to cooperate across stakeholders to ensure the security and sanctity of the supply chain", said Ms. Wilkes.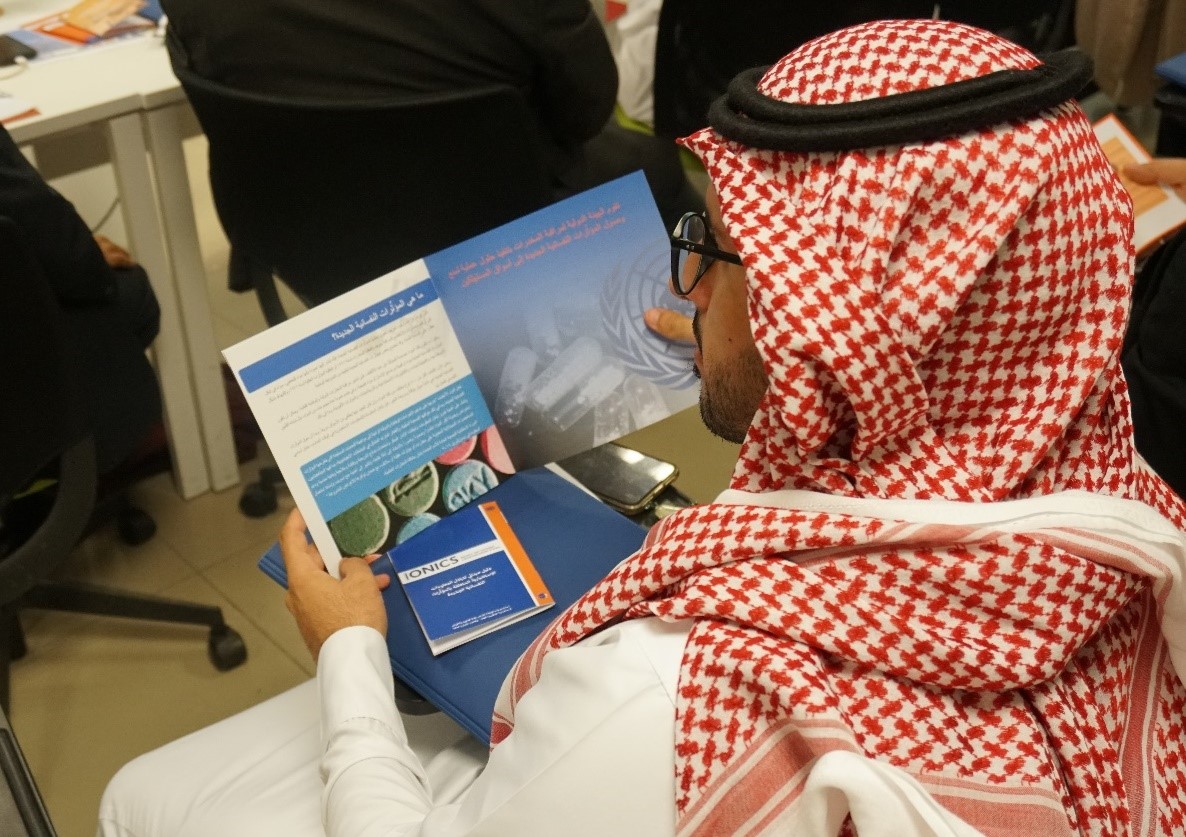 Officers were instructed on the INCB global operational projects to counter trafficking in dangerous substances in Arabic, French, and English
Officers received practical information and materials to safely respond to the threats and risks posed by dangerous fentanyl-related substances in Arabic and received instruction on the effective use of the IONICS communication platform that support domestic and international trafficking investigations. The ability to reach across law enforcement, customs enforcement, regulatory enforcement and postal security silos was a key aspect of effective information and intelligence sharing.
The Board's global OPIOIDS Project and Project ION support Governments' capacity to respond to changing trafficking, online marketing and sales patterns of NPS, non-medical synthetic opioids and fentanyl-related substances and their precursors, by building trust, improving communication and facilitating information sharing that identify and interdict distribution of these dangerous substances. The training of 16 Governments was a practical outcome of the UPU-INCB cooperative agreement signed in May 2018.
Click here to learn more about the OPIOIDS Project
Click here to learn more about the Project ION
Click here to learn more about INCB Precursor Controls