For information only - not an official document
UNIS/NAR/1390
26 September 2019
INCB advances cooperation to address trafficking of non-medical synthetic opioids in the Pacific with Oceania Customs Organization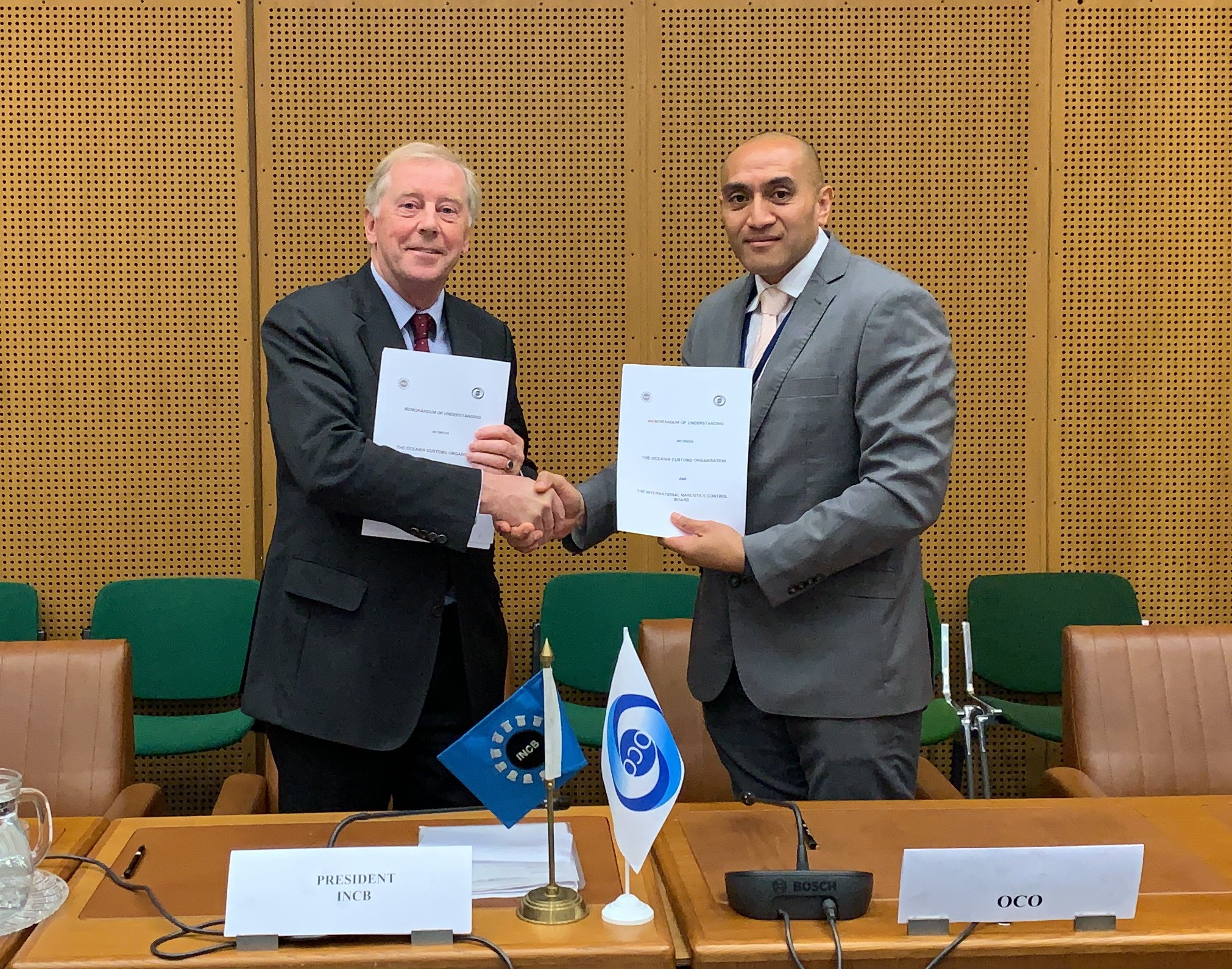 26 September 2019 - The International Narcotics Control Board has taken steps to advance cooperation to address trafficking of non-medical synthetic opioids in the Pacific. A memorandum of understanding (MoU) was signed by the INCB President with the Oceania Customs Organization (OCO) at the 2nd international expert group meeting on trafficking in non-medical synthetic opioids through postal and express courier services in Vienna.
Addressing participants at the expert group meeting, INCB President Mr. Cornelis P. de Joncheere said: "Today, non-scheduled synthetically engineered drugs like fentanyls are made to order online and shipped around the world, often using post, parcel, and freight forwarding services via unsuspecting countries. This accessibility has resulted in a staggering number of overdose deaths." Signing the agreement, Mr. de Joncheere said that the MoU will help to "effectively address complex facets of today's world drug problem."
At the signing ceremony, the Representative of the Oceania Customs Organization, Mr. Roy Lagolago, said: "The signing of this MOU today is a significant step towards combatting transnational criminal activity in the Pacific region and building awareness of new substances that are starting to emerge. This is very important because four years ago the methamphetamine and cocaine market were non-existent in the Pacific. Australia and New Zealand were always the target market. However, fast forward to 2019 and the Pacific has become a viable market for organised criminal groups. It is no longer a transit point to bigger markets but now it is part of the market. It is highly likely that some of the new psychoactive substances that are appearing in other parts of the globe will eventually make its way into the Pacific market."
INCB and OCO share common objectives to enhance international drug control efforts and will collaborate to further these common goals and objectives within their respective mandates. The OCO Representative, Mr. Lagolago, explained that: "This MoU will assist the OCO to utilise the expertise and experiences of an established network to build awareness as well as provide our region with a global platform to share and collaborate."
The INCB President emphasized that given the expanse of area that OCO covers, partnerships are critical in securing borders. The Memorandum of Understanding between INCB and OCO represents a practical innovative partnership that provides for the sharing of expertise, information and intelligence to protect officers and the communities they serve, putting a central focus on health, safety, and border security in the region.
***
For further information, please contact:
INCB Secretariat
Tel.: (+43-1) 26060-4163
Email: incb.secretariat[at]un.org
www.incb.org