Board member Viroj Sumyai addresses opening of HONLEA Asia and the Pacific
BANGKOK, 22 October 2019 - The 43rd meeting of Heads of National Drug Law Enforcement Agencies (HONLEA), Asia and the Pacific, convened in Bangkok on 22 October 2019. Over the next 4 days, representatives from the law enforcement, foreign affairs and health sectors of countries in the Asia Pacific region will hold consultations on the drug control situation in the region and adopt recommendations on enhancing cooperation to reduce illicit cultivation and production of drugs, improve investigation techniques to counter drug trafficking, money-laundering and the dark net as well as alternative judicial measures to deal with drug offences and enhanced cooperation between the health and criminal justice sectors.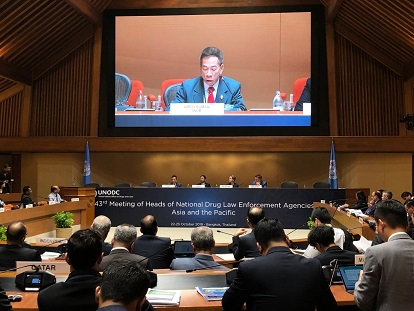 Dr. Viroj Sumyai speaking at the opening of HONLEA Asia and the Pacific

Speaking on behalf of the Board at the meeting of HONLEA, Asia and the Pacific, Dr. Viroj Sumyai highlighted the INCB's concern about the methamphetamine epidemic both in terms of trafficking and the havoc created by its abuse in countries of the region. Dr. Sumyai drew attention to the various tools developed by INCB, such as PEN Online and the Board's Precursors Incident Communication System ( PICS) and put them at the disposal of Governments. Dr. Sumyai called upon Governments to make full use of the INCB tools to exchange information to curb the flow of precursor chemicals and other substances, and to keep the Board abreast of their efforts, their successes and their challenges.
Find Dr. Sumyai's full statement here.