INCB President opens intersessional meeting of the Commission on Narcotic Drugs
VIENNA, 16 October 2019 - The President of the International Narcotics Control Board (INCB), Mr. Cornelis P. de Joncheere, spoke at the opening of the sixth intersessional meeting of the 62nd session of the Commission on Narcotic Drugs today in Vienna, Austria. Over the next three days, Member States will be discussing their Government's efforts and cooperation towards implementation of the commitments made in the 2019 Ministerial Declaration of the Commission.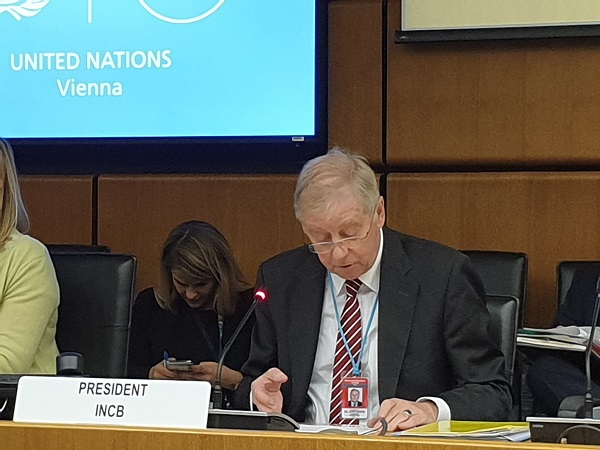 President de Joncheere speaking at the CND intersessional on 16 October 2019
Mr. de Joncheere recalled the Commission's accomplishments and addressed emerging challenges. He expressed the Board's concern about the challenges posed by new psychoactive substances (NPS), non-medical synthetic opioids and non-scheduled precursors, calling for effective responses by Governments, urging them to use  INCB's online communication platforms - PICS for precursors and IONICS for NPS and synthetic opioids - for sharing of information among governments in real-time. These platforms are at the cutting edge and are designed to serve users from Government authorities, such as police, customs, postal inspection and regulatory authorities.
The INCB President drew attention to the Board's commitment to helping governments build the capacity of their competent national authorities to implement their treaty obligations, which is key to improving availability of narcotic drugs and psychotropic substances for legitimate medical and scientific use, while preventing diversion to illicit channels and illicit manufacture. Furthermore, Mr. de Joncheere referred to INCB Learning, a global initiative that had enabled 237 officials from 88 countries and territories to receive training in regional onsite and online seminars to enhance efforts to improve availability of controlled medicines.
In his closing remarks, the INCB President stressed the importance of respect for human rights and reiterated that if drug control measures adopted by States violate internationally recognised human rights standards and norms, they also violate the international drug control conventions.