INCB publishes 2018 Technical Reports on Narcotic Drugs and Psychotropic Substances
VIENNA, 20 March 2019 - The International Narcotics Control Board (INCB) has launched the 2018 editions of its two technical reports: Narcotic Drugs 2018: Estimated World Requirements for 2019 - Statistics for 2017 and Psychotropic Substances 2018: Statistics for 2017 - Assessments of Annual Medical and Scientific Requirements.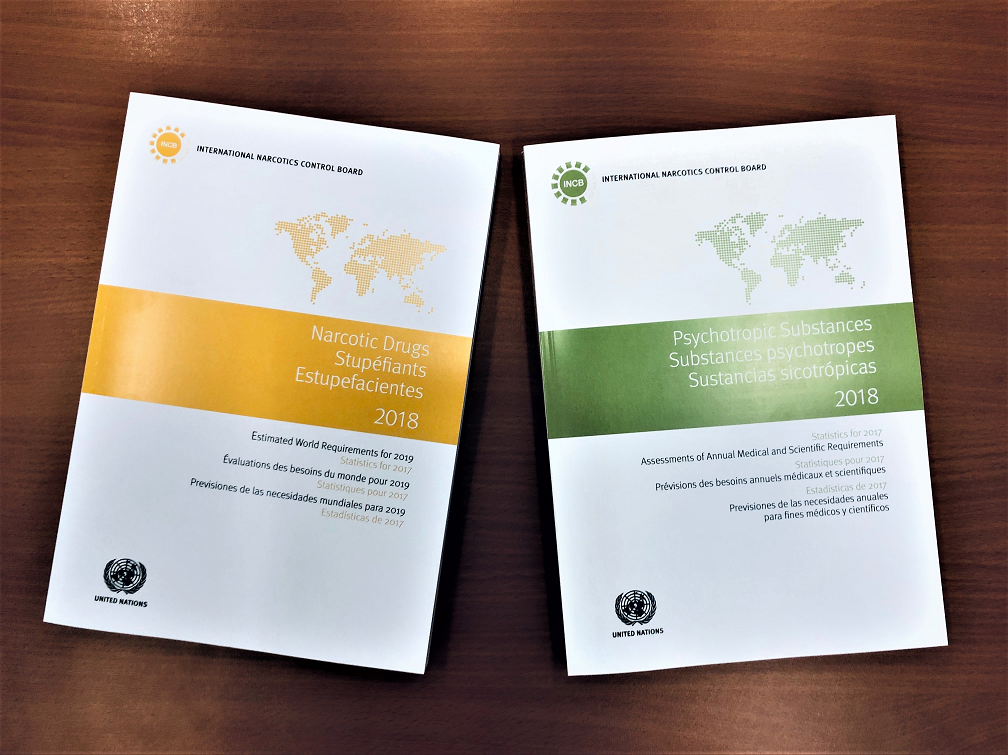 The technical reports on narcotic drugs and psychotropic substances provide analysis and comprehensive data on the licit global trade in narcotic drugs and psychotropic substances for 2017 and include national estimates and assessments of their licit needs for medical and scientific purposes.
The 2018 report on narcotic drugs presents shifting trends in the global licit market for opiates as well as in the market for synthetic opioids, including fentanyl. Complementing the special INCB 2018 report on availability, the report provides detailed information on the worldwide disparity in consumption of morphine for pain management. It also covers the rapidly growing licit market for cannabis for medical and scientific purposes.
The 2018 report on psychotropic substances has been significantly revamped, with a new format introduced for this edition. As the number of substances controlled under the 1971 Convention continues to increase, the commentary has been restructured to focus on the substances that dominate the licit global market, mostly benzodiazepines. Graphs and tables in the commentary have been completely overhauled to improve readability. Furthermore, other parts of the psychotropics report have been revised to improve the report's usability as a key reference document for competent national authorities and others interested in the licit trade of internationally controlled psychotropic substances.
The reports are published annually by INCB as mandated by the 1961 and 1971 Conventions.
Both reports are now available from the links below: