Strengthening international postal security within Latin America

Montevideo, 5 September 2019 - The Universal Postal Union (UPU) and the World Customs Organization (WCO) Joint Security Capacity Building Workshop within Latin America, brought in experts from the International Narcotics Control Board (INCB) to strengthen capacity to counter transportation of dangerous contraband. The workshop, held from 2 to 5 September in Montevideo, Uruguay, included 23 postal security and customs officers from Argentina, Bolivia, Chile, Colombia, Costa Rica, Cuba, Dominican Republic, Ecuador, El Salvador, Guatemala, Honduras (Rep.), Mexico, Nicaragua, Panama (Rep.), Paraguay, Peru, Uruguay and Venezuela. Officers received hands-on instruction by experts from the UPU, WCO, INCB and the Postal Union of the Americas, Spain and Portugal (PUASP) in the four-day training event.
Postal security officers throughout Latin American benefited from an enhanced capacity to interdict non-scheduled new psychoactive substances (NPS) like fentanyls analogues, and many participants commented on the necessity for information exchange and collaboration with national and international agencies to effectively respond to the threats posed by these substances. Pablo Sagastume, PUASP programme manager of the regional postal security project, highlighted that global WCO, UPU and INCB intelligence sharing tools, "will help our Postal Operators gather key intelligence to improve their efforts and operations to identify NPS that are sent through the mail and represent a great threat to our employees and customers".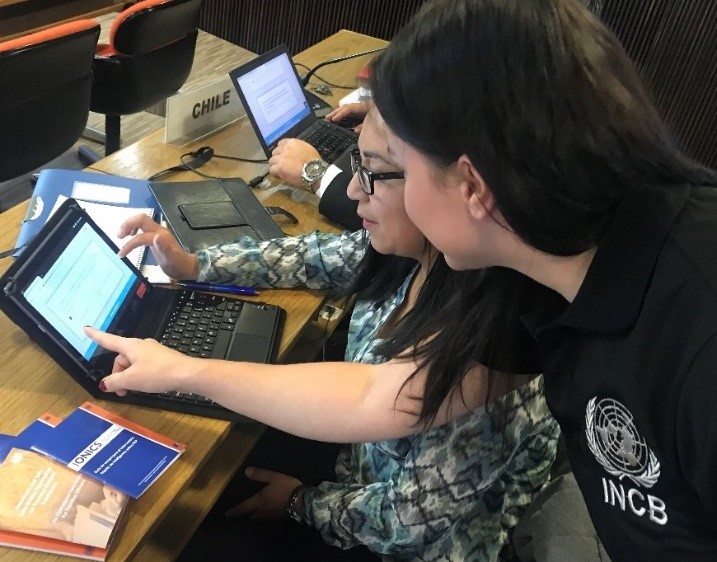 Photo: INCB trained officers on features of the IONICS platform in Spanish
Dawn Wilkes, UPU Security Programme Manager, reiterated the use of available expertise within Latin America and the importance of information sharing mechanisms to address shared security threats, and effectively counter trafficking of dangerous substances through postal channels. "The relationships and knowledge built during these workshops across stakeholders will continue to benefit the region through eliminating silos and building bridges for solutions in supply chain security", said Ms. Wilkes.
INCB trained officers on identification and safe interdiction methods of emerging substances, such as fentanyls, commonly trafficked through the postal and express courier streams, and how to share information through its global communication platforms. To that end, officers were trained on the effective use of INCB's global secure communication platform (IONICS) to send and receive intelligence and alerts that support domestic and international investigations of dangerous substances that are not internationally scheduled.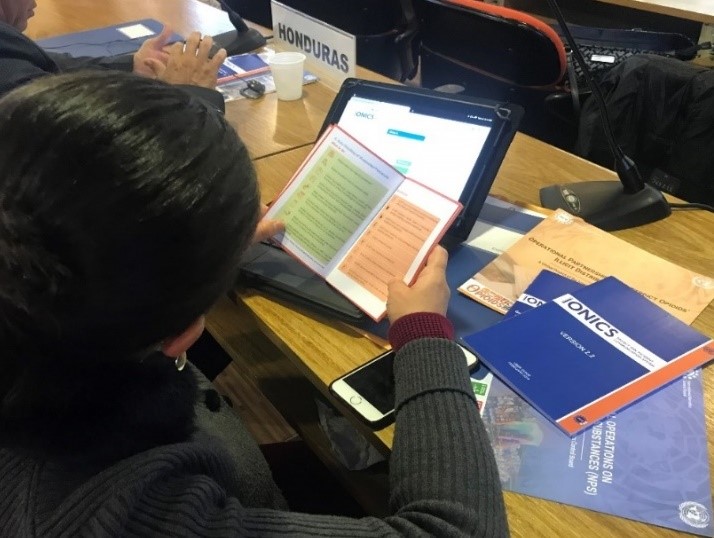 Photo: Officers were instructed on the INCB global operational projects to counter trafficking in new psychoactive substances dangerous substances
Through its global Project ION and OPIOIDS Project, the Board is supporting Governments' capacity to prevent or interdict the manufacture, marketing, movement and monetization of NPS, fentanyl-related substances and related precursors, by building trust, improving communication and facilitating information and intelligence exchange between agencies around the world.
Click here to learn more about the OPIOIDS Project
Click here to learn more about the Project ION
Click here to learn more about INCB Precursor Controls