Access to and availability of controlled substances in times of crisis
VIENNA, 22 October 2020 - At the margins of the third intersessional meeting of the sixty-third session of the Commission on Narcotic Drugs, INCB together with the Government of Switzerland organized a virtual side-event on Access to and Availability of Controlled Substances in Times of Crisis.
Attended by around 90 participants from all over the world and moderated by Ms. Katharina Frey, Deputy Head of the Permanent Mission of Switzerland to the United Nations in Vienna, the event highlighted some of the major challenges experienced by Governments and humanitarian assistance organizations in ensuring access to and availability of controlled substances in emergency and crisis situations (including the COVID-19 pandemic) and the importance of updating the Model Guidelines for the International Provision of Controlled Medicines for Emergency Medical Care (1996).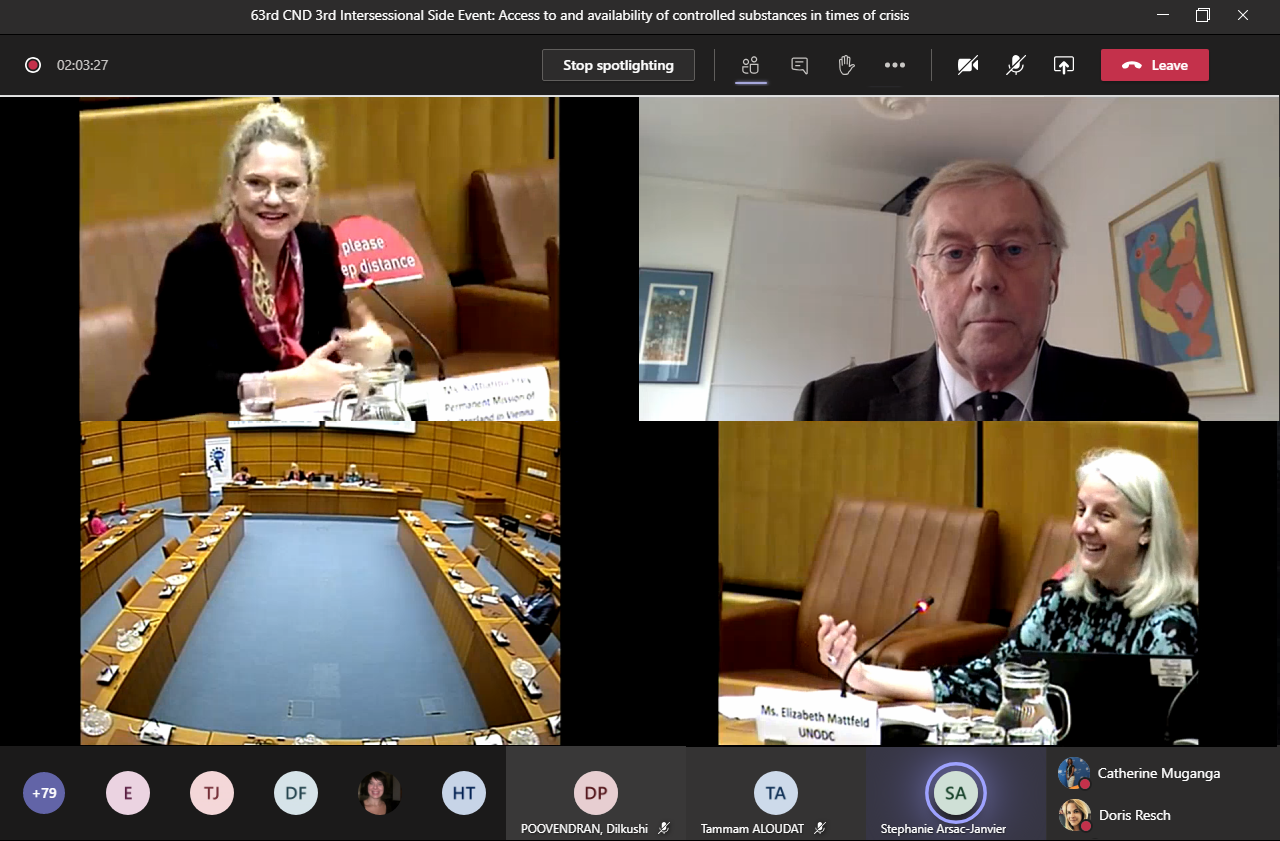 The President of the Board, Mr. Cornelis P. de Joncheere, and representatives of the World Health Organization (Dr. Dilkushi Poovendran), the United Nations Office on Drugs and Crime (Ms. Elisabeth Mattfeld), the International Committee of the Red Cross (Ms. Stephanie Arsac-Janvier) and Médecins Sans Frontières (Mr. Tammam Aloudat) shared their concerns and difficulties faced in delivering controlled substances during emergency and crisis situations, including that of the COVID-19 pandemic.
Mr. de Joncheere pointed out that unlike other crises over the last two decades, the COVID-19 pandemic presents a different crisis, as it affects the whole world at the same time and is continuing to do so. As a result, the international community should reflect on the impact of the COVID-19 pandemic on the availability of controlled substances and review its preparedness in ensuring governments' access to and availability of these substances, some of which are essential for the treatment of COVID-19 patients and those suffering from acute emergencies.
While most panel members agreed that countries facing different crises suffer from shortages of controlled substances, the challenges they face are multiple, ranging from the disruption in the global supply chain of medicines and the increased demand for these substances during the COVID-19 pandemic, difficulties experienced in the procurement, transport and delivery of these substances as a result of lockdown measures and regulatory requirements, to the fear among practitioners of prescribing controlled substances. Practical solutions and suggestions on how to overcome some of these challenges were also mentioned and discussed.
INCB calls for further cooperation among the international community on providing assistance to countries experiencing difficulties in access to and availability of controlled substances in times of crisis, and will continue working with governments, WHO, UNODC, humanitarian partners and other stakeholders in improving the Guidelines in this regard.