INCB strengthens global intelligence exchange of dangerous substances through new technologies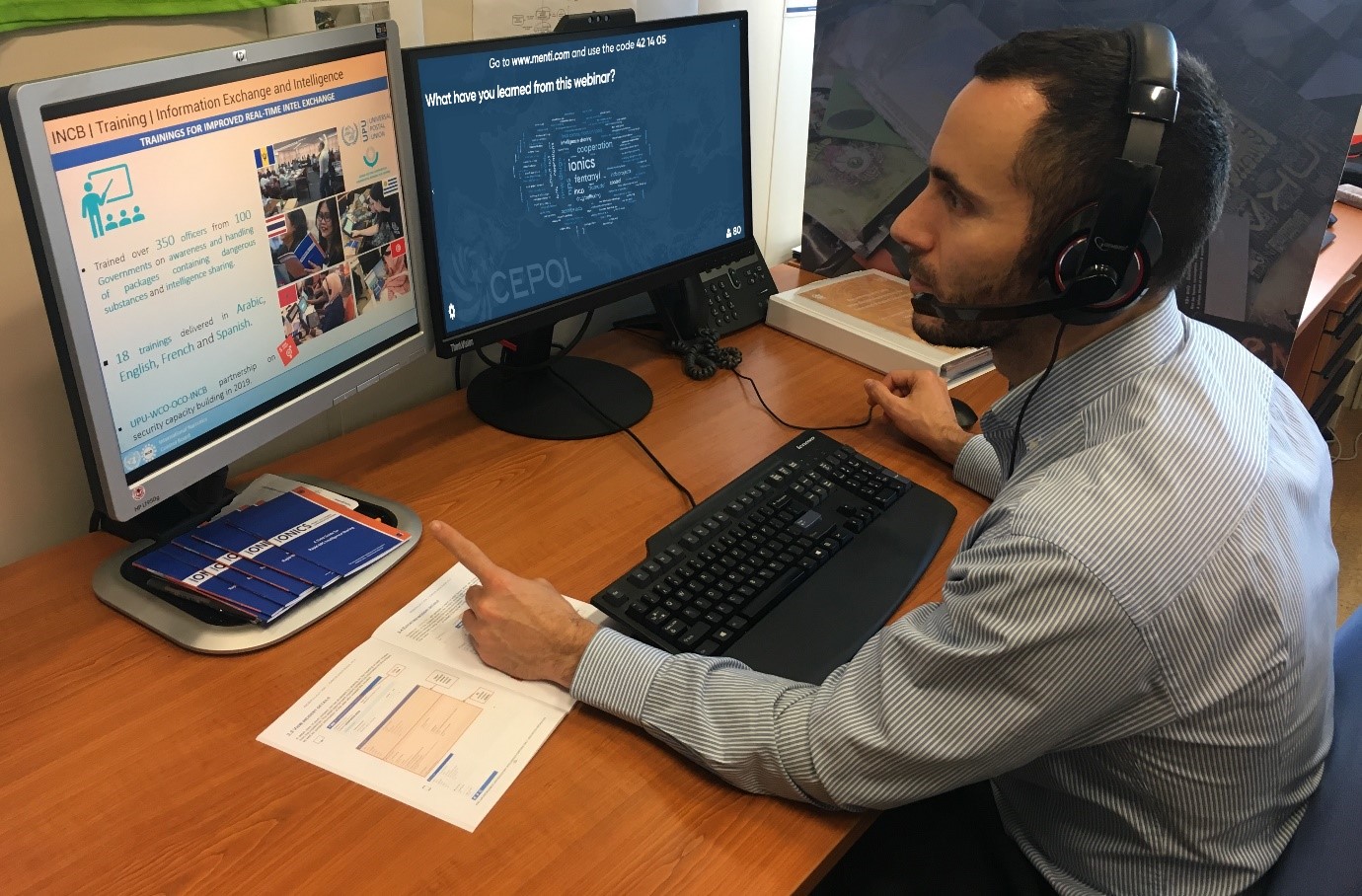 Vienna, 5 February 2020 - Nearly 260 international law and regulatory enforcement officers participated in the instructional webinar highlighting practical tools and approaches to counter global trafficking in new psychoactive substances (NPS), synthetic opioids and fentanyls, and other dangerous substances, organized by the European Union Agency for Law Enforcement Training (CEPOL). The objective of the webinar was to inform governments on the International Narcotics Control Board (INCB) operational tools to prevent and interdict NPS, synthetic opioids and precursors, to provide an overview of available INCB multi-agency global IONICS communication platforms, and enhance officer capacity to counter trafficking of dangerous substances not currently under international control.
The webinar included international experts from EMCDDA, Frontex and Interpol, and law and regulatory enforcement officers from 51 governments including Albania, Argentina, Armenia, Belgium, Bhutan, Bosnia and Herzegovina, Bulgaria, Cambodia, Croatia, Cyprus, Czechia, Denmark, Ecuador, Estonia, Finland, France, Georgia, Germany, Greece, Guyana, Iceland, India, Italy, Kenya, Kosovo (Rep. of), Latvia, Lithuania, Malta, Mauritius, Nicaragua, Niger, Nigeria, North Macedonia, Norway, Pakistan, Paraguay, Philippines, Poland, Portugal, Romania, Russian Federation, Serbia, Singapore, Slovakia, Slovenia, Spain, Sweden, Switzerland, Ukraine, the United Kingdom and the United States.
Klaidas Kuchalskis, Programme Officer of CEPOL, stated that the "extensive number of participants attending the webinar from the variety of countries clearly indicates the importance of global communication platforms for improved cooperation and intelligence sharing as well as need for raising awareness and spread of knowledge and expertise not only in Europe, but globally." More than 30 border, coast and maritime police, 37 customs, 11 judiciary and prosecutors, 144 police and 36 regulatory and other officials participated in the event. Participants evaluation results of the webinar showed a 97% satisfaction rate with the materials provided, amongst the highest ever reached by CEPOL.
INCB makes available tools and technology that raise awareness of the threats posed by dangerous substances and connect officers to an INCB counter-trafficking network of more than 1400 focal points acting to identify and interdict NPS trafficking around the world.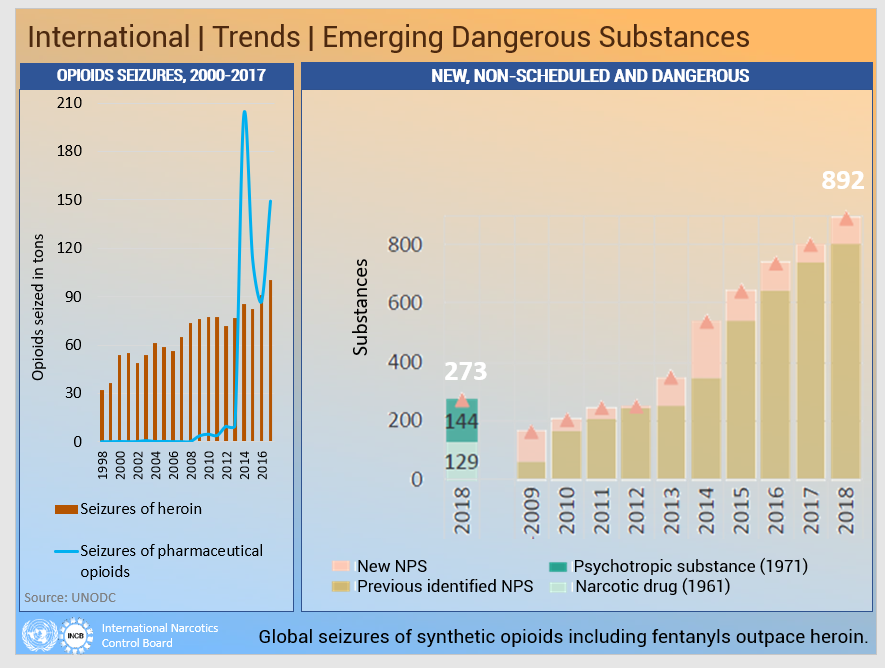 Photo: Changing global NPS trafficking situation and challenges posed by dangerous substances were highlighted during the webinar
The work was carried out under the Board's Global Rapid Interdiction of Dangerous Substances (GRIDS) programme, as a response to the 2018 United Nations General Assembly Resolution 73/192, calling for "International cooperation to address and counter the world drug problem", by responding to requests by Member States to enhance their law enforcement capacity to detect and identify new psychoactive substances and promote cross-border cooperation and information-sharing through the use of the Board's specialized tools and projects. Under the GRIDS programme, the Project ION, the OPIOIDS Project and the IONICS platform provide practical tools to interdict illicit manufacture, marketing, movement and monetization of dangerous NPS, fentanyl-related substances and their precursors, through information and intelligence exchange.
The event was made possible through the generous investments by the Government of Australia, Canada, Japan, and the United States.
Click here to learn more about the GRIDS Programme
Click here to learn more about the OPIOIDS Project
Click here to learn more about the Project ION