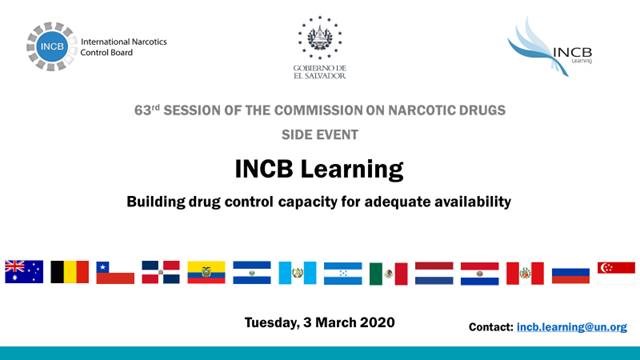 The International Narcotics Control Board (INCB) is pleased to inform you that there will also be a live stream for today's CND side event entitled "INCB Learning".
The webcast can be accessed through this link: https://webcast.unodc.org/webcast/en/live/incb.html
The event takes place today at 1 p.m. CET in Conference Room C3, 7th floor of the C-Building, Vienna International Centre.

At the event, INCB will launch the Spanish language version of the three INCB e-learning modules developed to support Governments in estimating their licit requirements of narcotic drugs and psychotropic substances for medical use and established annual legitimate requirements for precursor chemicals controlled under the drug treaties. 

Held at the sixty-third session of the Commission on Narcotic Drugs (CND), the event is being organized by the Government of El Salvador in cooperation with INCB and the Governments of Australia, Belgium, Chile, the Dominican Republic, Ecuador, Guatemala, Honduras, Mexico, the Netherlands, Paraguay, Peru, the Russian Federation and Singapore.