INCB President participates in @63CND side-event on Norway's proposal to move from a punitive to supportive approach
VIENNA, 2 March - International Narcotics Control Board (INCB) President, Cornelis P. de Joncheere, contributed to a side-event held today on "Drug Reform: From a punitive to supportive approach - the Norwegian proposal" at the margins of the 63rd session of the Commission on Narcotic Drugs (CND). The side event was organized by the Government of Norway, the United Nations Office on Drugs and Crime (UNODC), the International Narcotics Control Board and the World Health Organization (WHO).
Following a keynote statement by H.E. Bent Høie, Minister of Health and Care Services of Norway, the INCB President engaged in a discussion with other panellists, including Devora Kestrel, Director Mental Health and Substance Use, WHO,  Gilberto Gerra, Chief of Drug Prevention and Health Branch of UNODC, Zaved Mahmood, Human Rights and Drug Policy Advisor, Office of the United Nations High Commissioner for Human Rights (OHCHR), Alexis Goosdeel, Director, European Monitoring Centre for Drugs and Drug Addiction (EMCDDA) and Jamie Bridge, Chair, Vienna NGO Committee on Drugs.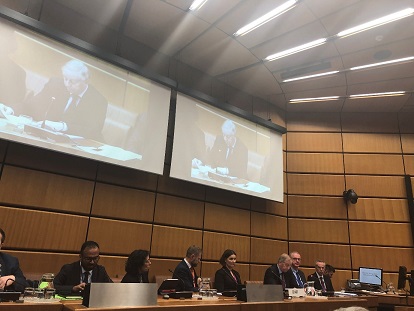 The INCB President emphasized that the international drug control framework is designed to protect people's health and at the same time safeguard people from disproportionate criminal justice responses to drug possession on account of personal use or dependence. Mr. de Joncheere stated that the Norwegian proposal to change from a punitive to a supportive approach to persons using drugs was "an example of how States, at their own discretion, can adopt humane policy measures based on a public health-oriented approach". He noted that it was fully consistent with the Conventions to exempt the possession of small quantities of drugs from criminal prosecution and apply proportionate responses to minor drug offences that could be health-centred and non-punitive.
Mr. de Joncheere drew attention to the principle of proportionality, noting that it underpins the criminal justice-related provisions in the conventions and should help shape these responses to individual drug use and dependency so that they are distinct from more serious categories of drug-related crimes, such as trafficking.
The INCB President's statement at the side event is available here.