World Mental Health Day

Mental Health for all. Greater Investment - Greater Access. Everyone, everywhere.
World Mental Health Day 2020 is being observed amid the unprecedented challenges brought by the COVID-19 pandemic. This year, the theme is "Mental Health for all. Greater Investment-Greater Access. Everyone, everywhere".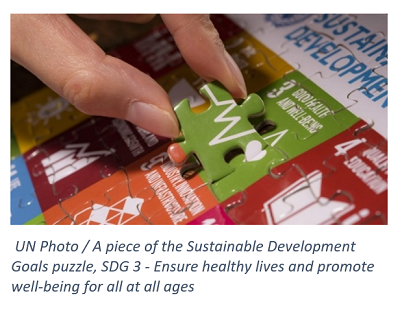 Drug dependence is a mental health issue that can be treated, yet too many people around the world continue to suffer.  The COVID-19 pandemic is affecting patterns of drug use and stretching the already limited capacity of important services for health and wellbeing.
To assist Member States in their efforts to prevent and alleviate the suffering caused by drug use and dependence, INCB has released a number of thematic chapters in its annual reports, available in all official languages of the United Nations. In March 2020, the Board released in its 2019 Annual Report a thematic chapter on Improving substance use prevention and treatment services for young people. Other thematic chapters include:
The Board is currently working on a thematic chapter on the use of drugs among older persons, to be included in its Annual Report for 2020, to be launched in early 2021. The Annual Report will also analyse the impact of the COVID-19 pandemic on the global drug control situation.
While global awareness about the relevance of mental health has been growing in recent years, investments in the supply of mental health services have not matched the demand of the population affected by mental health conditions. According to WHO, at least three quarters of the population with mental, neurological, and substance use disorders in low- and middle-income countries does not have access to medical services to treat their condition, including duly prescribed medicines.
The COVID-19 pandemic is having an impact on mental health as loss or illness of a loved one, uncertain economic outlooks, work under stressful conditions, and/or increased social isolation could trigger or aggravate numerous mental health conditions.
A number of medicines important in the treatment of mental health conditions and for the pharmacological treatment of drug dependence are under international control, especially - but not limited to - those containing psychotropic substances such as diazepam, lorazepam, midazolam and phenobarbital.
In some parts of the world, patients are not able to access the medicines they need for their treatment. Through INCB Learning, INCB is assisting competent national authorities to ensure the availability of internationally controlled substances while preventing their diversion and associated misuse. Scaling-up efforts to guarantee the availability of the abovementioned medicines is essential to achieving the Sustainable Development Goals, especially SDG3 on health and wellbeing.