The International Narcotics Control Board provides Governments with a comprehensive compilation of precursor chemical monographs, jointly with the United Nations Office on Drugs and Crime Regional Office for Southeast Asia and the Pacific
VIENNA/BANGKOK, 8 January 2021 - The International Narcotics Control Board (INCB) and the UNODC Regional Office for Southeast Asia and the Pacific (ROSEAP) are pleased to announce the recent release of the Precursor Chemical Monographs 2020, a new tool to support Governments' efforts to address illicit drug manufacture.
The Precursor Chemical Monographs 2020 have been elaborated by INCB with editorial and financial support from UNODC ROSEAP, and contain technical information for more than 95 chemicals known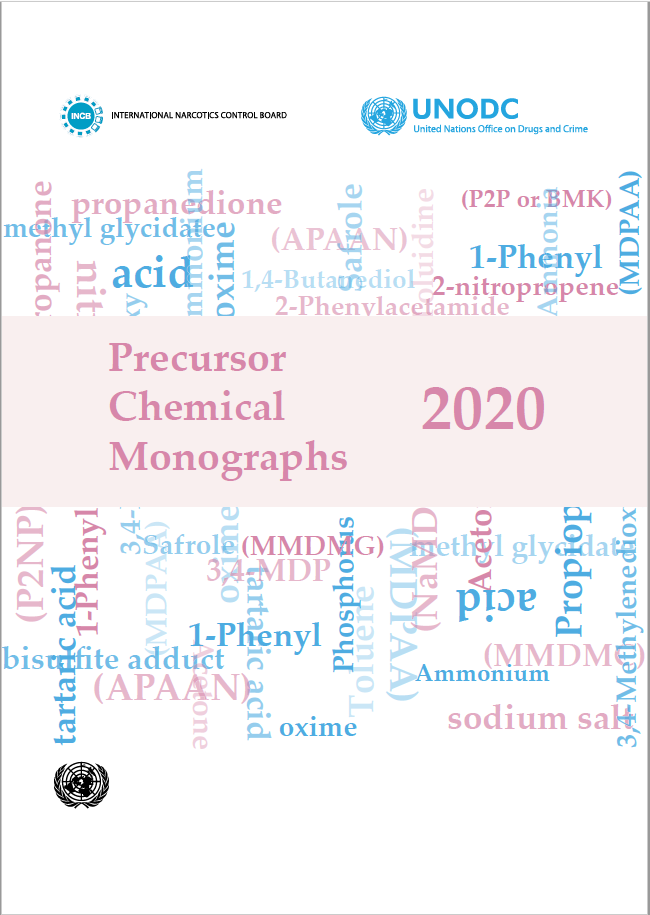 to be used in illicit drug manufacture. It responds to the need of Governments to be able to identify an ever-increasing range of chemicals and combinations of chemicals, and to assess their relevance for illicit drug manufacture and potential for diversion at any stage along the legitimate distribution chain.
Most of the chemicals listed in the document are dual-use chemicals, with significant legitimate applications.  In light of the increasing sophistication and creativity of illicit operators and traffickers, the document also includes a number of so-called designer precursors that are specifically made to circumvent existing regulations and replace traditional precursors under national and international control.
Addressing the proliferation of designer precursors and other non-scheduled chemicals is a priority of international precursor control and a pillar of the cooperation of INCB and UNODC with Governments. The Board and UNODC ROSEAP trust that this document will strengthen the work of regulatory and law enforcement authorities, promote national and international understanding of the subject and facilitate the needed cooperation with private sector industries, with a view to identifying and preventing the diversion and use in illicit drug manufacture of controlled, designer and other non-scheduled chemical precursors. 
The Board would also like to thank the Governments of Australia and the United States of America for their generous financial contributions in preparing the publication.
The document is available for official use from: incb.precursors@un.org (currently in English and Chinese only).
Information on international precursor control and the available INCB resources is available here.
Information on the precursor-related programme of UNODC ROSEAP is available here
Further information on the topic of non-scheduled chemicals and designer precursors is available in the 2018 INCB report on precursors and a Conference Room Paper prepared by INCB for the 63 rd session of the Commission on Narcotic Drugs in March 2020.
This press release was updated on 19 March 2021 to reflect the availability of the report in Chinese.