INCB continues policy dialogue with Member States on opportunities afforded under articles 12 and 13 of the 1988 Convention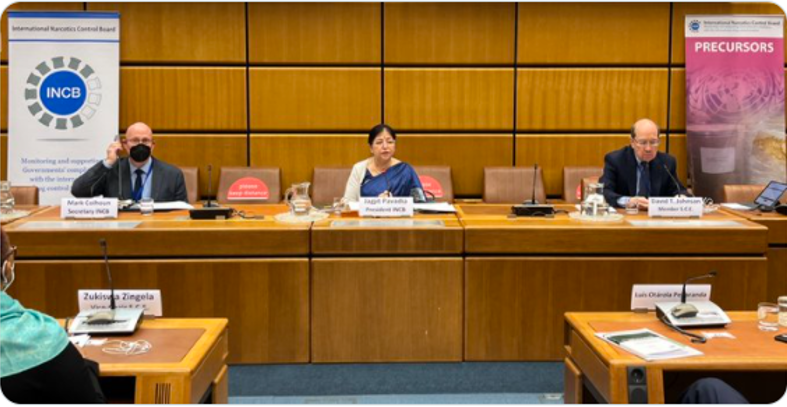 VIENNA, 18 November 2021 - Yesterday, as part of its 132nd session, the International Narcotics Control Board (INCB) met representatives of Member States in Vienna, Austria, to continue the dialogue on policy options to address the proliferation of non-scheduled chemicals, including designer precursors, and to extend that dialogue to essential equipment used in the illicit manufacture of drugs.
In her opening remarks, INCB President Jagjit Pavadia commended Member States on their valuable contributions during the various events organized by the Board's secretariat in the course of the last 12 months and noted that significant progress had been made in the area of non-scheduled chemicals, including designer precursors. She also expressed the Board's desire to facilitate a similar process related to illicit drug manufacturing equipment and the options afforded under article 13 of the 1988 Convention with a view to building a global consensus in this area as well. 
Representatives of Member States and Members of the Board, including David T. Johnson, Luis Otarola and Zukiswa Zingela, joined the INCB President in sharing observations and experiences in addressing non-scheduled chemicals, designer precursors, and essential equipment used in illicit drug manufacture in the context of article 12 and article 13 of the 1988 Convention. They also discussed available resources, tools and initiatives to support effective implementation of the two articles of the 1988 Convention.
29 countries participated in the event.
In closing, Ms. Pavadia expressed appreciation for the continuing support of governments to address both chemicals not under international control and essential equipment, which present a critical challenge for multilateralism and international drug control. She reassured Member States of the Board's strong commitment to support innovative, practical and proactive solutions and expressed the Board's hope for agreement on collective global action to prevent precursors, non-scheduled chemicals and essential equipment from reaching illicit drug laboratories.
The President noted that such efforts ultimately prevent the illicit manufacture of drugs and contribute to safeguarding public health and wellbeing. The activities contribute to the implementation of the sustainable development goals, in particular SDG 3 (good health and wellbeing), SDG 16 (peace, justice and strong institutions) and SDG 17 (partnerships for the goals).