INCB convenes Third expert group meeting on illicit drug manufacturing equipment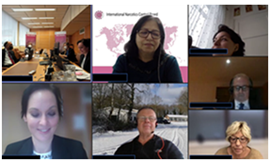 VIENNA, 3 December 2021 - INCB convened its third expert group meeting on illicit drug manufacturing equipment on 30 November and 1 December to discuss options, measures and approaches for preventing the diversion of equipment essential for illicit drug manufacture and for enhancing the operational use of article 13 of the 1988 Convention.  
Experts from Canada, China, France, Germany, Guatemala, India, Mexico, the Netherlands, Nigeria, Thailand, the United States, Europol, the World Customs Organization and UNODC attended the meeting virtually. 
In her opening statement, the President of the International Narcotics Control Board, Ms. Jagjit Pavadia, noted that the emergence of a variety of synthetic drugs and new psychoactive substances in recent years was characterized by a high level of sophistication and innovation in illicit manufacture. Testimony to this was the increasing use of non-scheduled chemicals, including designer precursors and illicit laboratories on an industrial scale, which often included the use of customised equipment. Ms. Pavadia also highlighted that, over the course of the last three years, the Board had undertaken several initiatives to raise awareness and advance the knowledge of the provisions of articles 3 and 13 of the 1988 Convention with regard to equipment with a view to enhancing the use of these provisions.  
During the two-day event, experts discussed the development of multilateral cooperation tools to prevent and investigate the diversion of equipment for illicit drug and precursor manufacture. The Board plans to make some of these tools available and will provide related policy guidance during the course of 2022.
More information related to materials and equipment used in illicit drug manufacture can be found on the INCB web page dedicated to this topic:
https://www.incb.org/incb/en/precursors/materials-and-equipment.html.
***
INCB is the independent, quasi-judicial body charged with promoting and monitoring Government compliance with the three international drug control conventions: the 1961 Single Convention on Narcotic Drugs, the 1971 Convention on Psychotropic Substances, and the 1988 Convention against Illicit Traffic in Narcotic Drugs and Psychotropic Substances. Established by the Single Convention on Narcotic Drugs of 1961,  the thirteen members of the Board  are elected in a personal capacity by the Economic and Social Council for terms of five years.