INCB raises awareness on precursor control framework and its tools in a discussion with the Mexican Technical Group for the Control of Synthetic Drugs 
VIENNA, 30 August 2021 - The Precursors Control Section of the secretariat of the International Narcotics Control Board (SINCB) held a virtual workshop with the Mexican authorities on 25 August 2021. The event was attended by 150 participants of the Mexican Technical Group for the Control of Synthetic Drugs (GTCDS), an inter-ministerial body made up of the federal Ministries of Communications, Economy, Health, Justice, Public Finance and Security.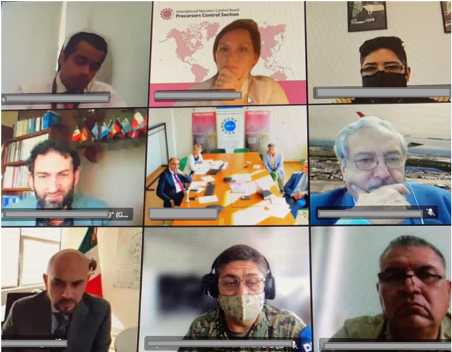 The meeting provided an opportunity to exchange good practices concerning mechanisms for the control and monitoring of precursor chemicals, which can be exploited for the illicit manufacture of opioids and methamphetamines. It took place against the backdrop of the recently established list of dual-use chemicals by the Government of Mexico. Such chemicals, monitored by GTCDS, have licit purposes but are also susceptible to diversion for illicit drug manufacture.
INCB's International Special Surveillance List, which includes a list of internationally non-scheduled chemicals frequently appearing in illicit drug manufacture and guidelines related to fostering and formalizing cooperation between governments and the private sector industries, were presented as a complementary tool for the Mexican Government.
The event was organized at the request of the Mexican National Center for Planning, Analysis and Information to Combat Crime (CENAPI), Attorney General's Office (FGR).
***