INCB and CARICOM IMPACS advance practical cooperation to address trafficking of synthetic opioids, NPS and related dangerous substances in the Caribbean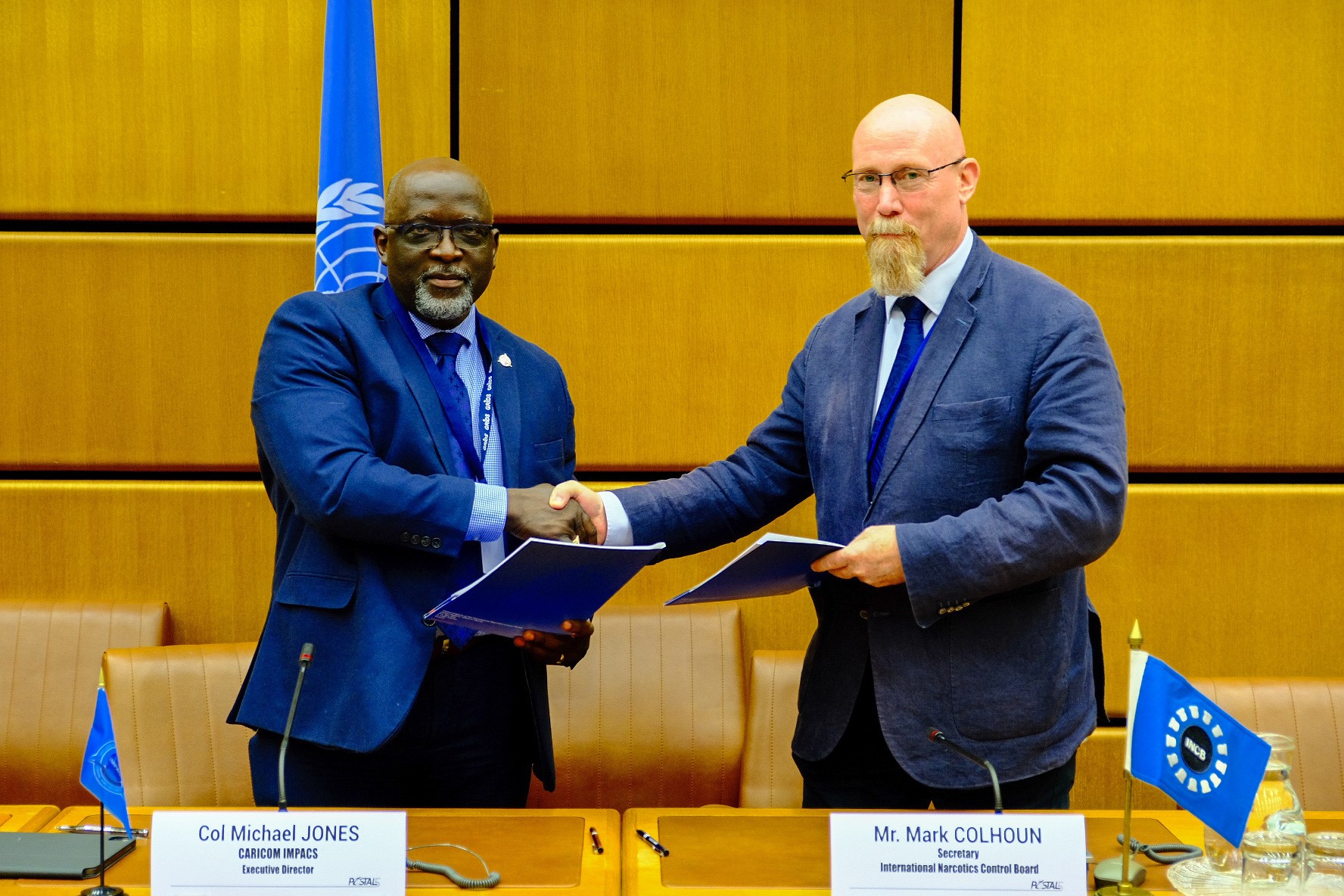 Colonel Michael Jones (Executive Director, CARICOM IMPACS) and Mark Colhoun (Secretary, International Narcotics Control Board)
6 September 2022 - The International Narcotics Control Board (INCB) and the Caribbean Community (CARICOM) Implementation Agency for Crime and Security (IMPACS) formalized cooperation to address trafficking of synthetic opioids, new psychoactive substances (NPS) and related dangerous chemicals in the Caribbean. The memorandum of understanding (MoU) between INCB and CARICOM IMPACS was signed on 6 September 2022, in Vienna Austria and will enhance international drug control efforts and enable the two organizations to collaborate toward their common goals within their respective mandates.
Speaking today at the 5th operational meeting on the trafficking of dangerous synthetic drugs and related chemicals through postal, express courier and air cargo services, Lieutenant Colonel Michael Jones, Executive Director of the CARICOM Implementation Agency for Crime and Security, said: "as the demand for synthetic drugs increases, this MOU is another significant step towards combatting transnational criminal activity in the Caribbean region. Awareness building, training and monitoring the changing dynamics of new dangerous substances are some strategies the Agency will employ to stem the flow of such substances into the Community."
The INCB Secretary Mr. Mark Colhoun emphasized that given the unique region that CARICOM IMPACS covers, partnerships are critical in securing borders and this agreement between the Board and CARICOM IMPACS represents a practical innovative approach that provides for the sharing of expertise, information and intelligence to protect the communities and the officers that serve.
***