INCB GRIDS Programme holds inter-regional workshop on Public-Private Partnerships for prevention of dangerous substance trafficking through the Internet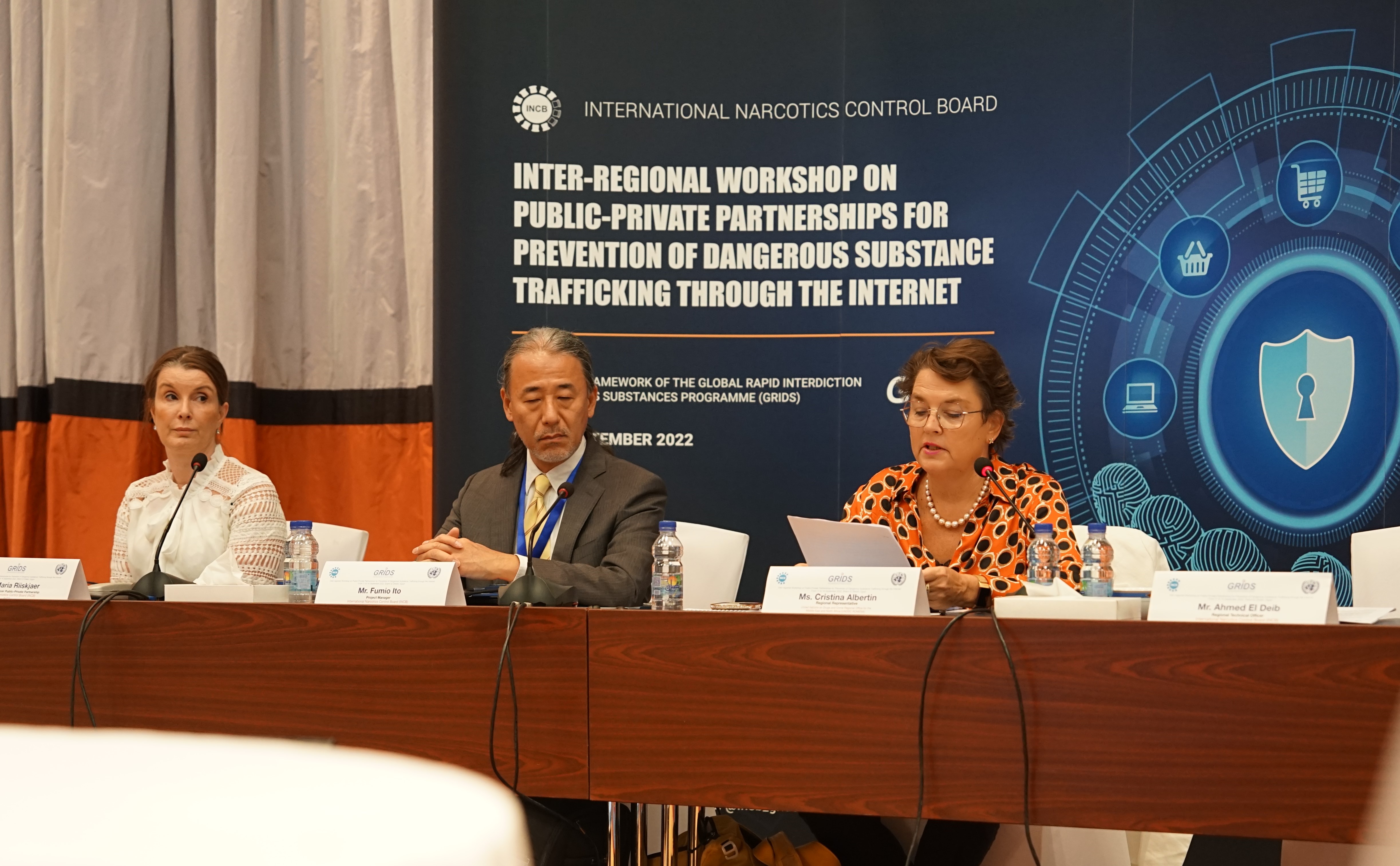 Vienna, 21 September - The Global Rapid Interdiction of Dangerous Substances (GRIDS) Programme of the International Narcotics Control Board (INCB) held a four-day Inter-regional workshop on Public-Private Partnerships for prevention of dangerous substance trafficking through the Internet in Sharm El-Sheikh, Egypt, from 11 to 14 September 2022.
The workshop was aimed at promoting voluntary cooperation between governments and their private sector partners from the Internet-related service industry, including by building on the achievements of previous expert group meetings, stakeholder consultations, and inter-regional workshops organized by the INCB operational projects on new psychoactive substances (NPS) and non-medical synthetic opioids.
More than 120 representatives and experts from 30 governments, 5 international organisations, 2 non-profit organizations, 1 academic institution, and 12 Internet-related service providers (including e-commerce companies, their industry associations, and domain name registries and registrars) were brought together in this workshop to share their respective experiences in preventing misuse of legitimate Internet-related services. The participants highlighted the problems of content abuse and the misuse of e-commerce platforms for dangerous substance trafficking, and also discussed next steps for promoting voluntary cooperation between governments and their private sector partners, as well as facilitating networking among the relevant experts and practitioners from the two sectors.
In his opening remarks at the commencement of the workshop on 11 September 2022, Mr. Mark Colhoun, INCB Secretary, highlighted the active role played by the GRIDS Programme in promoting cooperation, partnerships, and sharing of information and intelligence between governments and Internet-related service companies. Similarly, noting unprecedented social impacts and technical complexity of cybercrime and other types of Internet-related crimes, Ms. Cristina Albertin, Regional Representative for the United Nations Office on Drugs and Crime (UNODC) in the Middle East and North Africa (ROMENA), welcomed the efforts of INCB and its GRIDS Programme in organizing the workshop, and remarked that partnerships between governments and the private sector were essential in facing this rapidly evolving phenomena.
Participants recognized the importance of keeping the Internet ecosystem safe from illicit trafficking in NPS, non-medical synthetic opioids and related precursors, and shared practices to this end. In this regard, the participants from domain name registries/registrars highlighted the positive role of establishing "trusted notifier" relationships under the "Framework to Address Abuse", which is a voluntary agreement by major domain name registries and registrars to prevent certain categories of content abuse, including the "illegal distribution of opioids online". Participants from e-commerce companies and their industry associations shared the various approaches in voluntarily monitoring their platforms to screen illicit substances and suspicious online vendors engaged in trafficking of such dangerous substances. Many governments reported that they developed comprehensive policies for establishing national cooperation mechanisms with private sector partners to share relevant information and intelligence related to online sales of dangerous substances (including schemes, modalities, trends, changes in legislation, etc.), and further expressed their willingness to extend such mechanisms beyond their national borders. The government participants also shared their experiences in dealing with online anonymity and the various tools and approaches they used (including the established legal frameworks in their respective countries) to discover the true identity of suspicious vendors and other criminal entities online. The workshop concluded on 14 September 2022 with the adoption of a set of practical recommendations to be implemented by participants.
The GRIDS Programme is the International Narcotics Control Board´s global initiative addressing the international trafficking aspects of emerging dangerous substances. Launched in February 2020, the Programme contributes to the implementation of United Nations General Assembly Resolution 73/192, which calls for international cooperation to address and counter the world drug problem by responding to requests by Member States to enhance their law enforcement capacity to detect and identify new psychoactive substances and promote information sharing and cross-border cooperation, and Commission on Narcotic Drugs Resolution 62/8. The GRIDS Programme also contributes to the 2030 Agenda, particularly the Sustainable Development Goals on good health and wellbeing, sustainable cities and communities, peace, justice and strong institutions, and partnerships.
The GRIDS Programme is supported by the Governments of Canada, Japan and the United States. This event was made possible through generous support from the Government of Canada's Global Affairs Canada and Japan's Ministry of Foreign Affairs.