Availability and use of pain relief medicines affected by COVID-19 pandemic, cultivation and use of medical cannabis on the rise: INCB releases annual data on global narcotics production, use, trade, and 2022 needs
VIENNA, 16 March 2022 - The International Narcotics Control Board (INCB) released today its ' Narcotic Drugs 2021' publication, presenting the latest consolidated global data on narcotic drug production and use for medical and scientific purposes, including for pain relief. 
INCB's publication illustrates that the COVID-19 pandemic has had an influence on global manufacture and supply, with increased use of certain narcotic drugs for pain relief, such as fentanyl-related medicines alfentanil and remifentanil, and buprenorphine. However, use of synthetic opioids often associated with overdose deaths, such as fentanyl, oxycodone, ketobemidone and tilidine, has seen a downward trend in recent years.
| | |
| --- | --- |
| | |
In certain regions, availability of various narcotic drugs has been limited, most notably of morphine and codeine, which is derived from morphine. Noting that access to narcotic drugs is unevenly distributed regionally even though overall global supply is sufficient to meet reported needs, INCB has called on the countries with greater availability of narcotic drugs for pain relief, particularly in Europe and North America, to assist other countries with a view to ensuring a more equitable global distribution of and access to these essential and affordable medicines. In terms of licit international trade, there was an overall balance in the supply of opiate raw materials and demand for opiates in 2020, and the production in 2021 and 2022 is expected to remain sufficient to cover the global needs as expressed by countries.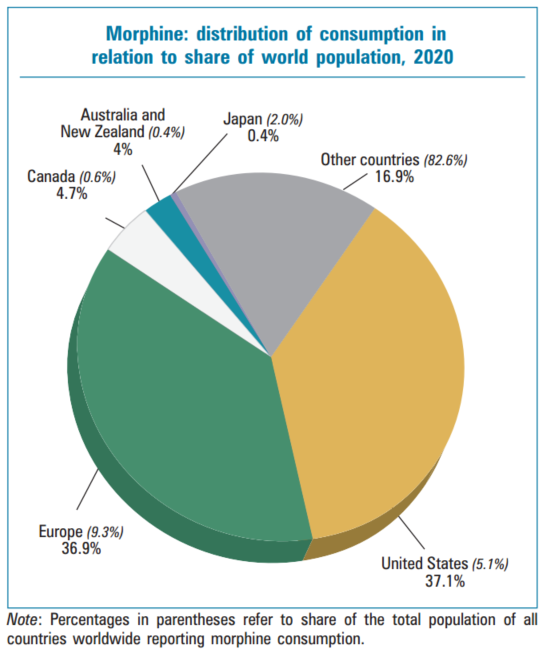 The report further found that the cultivation and use of cannabis for medical and scientific purposes had increased significantly from 468 tons in 2019 to 650 tons in 2020. The consumption of cannabis grew only moderately, from 199 tons to 261 tons, and the stocks of cannabis increased significantly, from 235 tons in 2019 to 1,701 tons in 2021.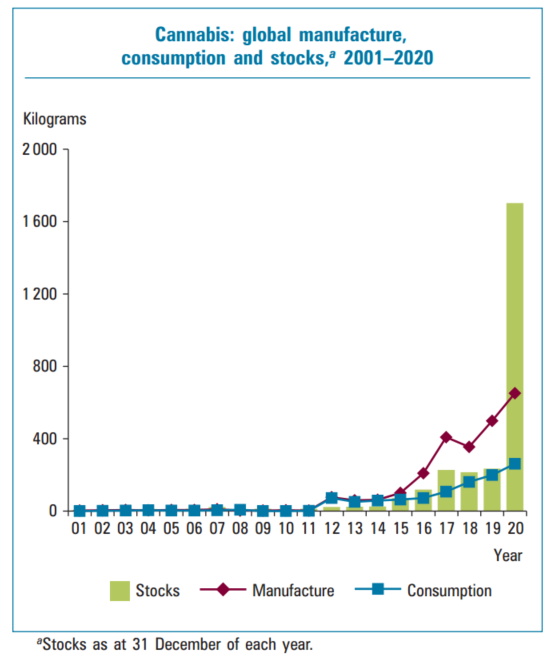 The 'Narcotic Drugs' report is published by INCB each year, and it accompanies the INCB's annual reports. 'Narcotic Drugs' covers a five-year period and is based on the actual data and estimates provided by countries and calculated by INCB. INCB has published such reports since 1968.The 'Narcotic Drugs 2021' report presents data and analysis on the global production and use of narcotic drugs, which include opium, morphine, heroin, fentanyl, cocaine, and cannabis among more than 136 internationally controlled substances, with the list being updated regularly by the INCB. The report is based on official government data for 2020, data projections for 2021 and 2022 as reported to INCB, and INCB's analyses of trends and developments in cultivation, production, manufacture, and use of internationally controlled narcotic drugs used for medical and scientific purposes.
The report is available at the following link:
Narcotic Drugs 2021