INCB launches its technical report on psychotropic substances for 2022 with analysis focused on major manufacturers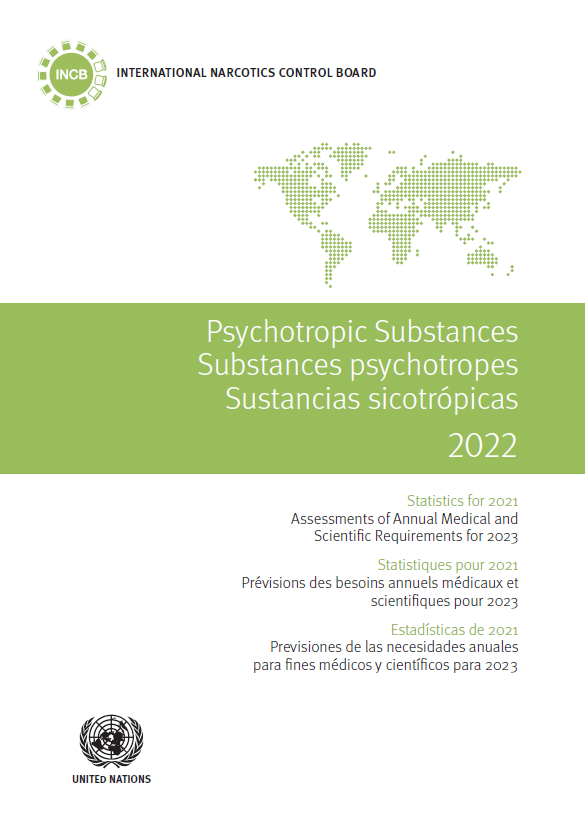 VIENNA, 16 March 2023 - The International Narcotics Control Board (INCB) released today 'Psychotropic Substances 2022: Statistics for 2021, Assessments of Annual Medical Scientific Requirements for Substances for 2023', its technical report presenting the consolidated global data on the licit manufacture, trade, and consumption of internationally controlled psychotropic substances for 2021.
The number of psychotropic substances under international control continues to grow with 166 substances included in the schedules of the 1971 Convention by the end of 2021. Four new psychoactive substances with no recognized medical use were put under control in Schedule II of the 1971 Convention on Psychotropic Substances (CUMYL-PEGACLONE, MDMB-4en-PINACA, 3-methoxyphencyclidine and diphenidine) along with three designer benzodiazepines in Schedule IV (clonazolam, diclazepam and flubromazolam). Of the 166 psychotropic substances under international control in 2021, only thirty saw significant activity on the licit international market, with most of that activity involving benzodiazepines included in Schedule IV of the 1971 Convention.
Of the 960.8 tons of internationally control psychotropic substances manufactured in 2021, approximately 740 tons were sedatives, 171 tons were stimulants and 48 tons were other drug types including hallucinogens and analgesics. Phenobarbital accounts for a quarter of all manufacture in 2021 at 263 and was by far the most manufactured substance that year. Diazepam was the most widely traded substance with 167 countries reporting imports. 
For the second year in a row, the technical report includes a detailed analysis of the global assessment system for internationally controlled psychotropic substances. Between 2012 and 2021, a total of 200 countries and territories provided updated assessments or modifications to established assessments for at least one internationally controlled psychotropic substance. New in this year's edition is an analysis comparing reporting data by countries against assessments. As reporting from some countries is missing, total global licit activity falls well short of levels expressed in total global assessments. However, the trend for countries with regular reporting history shows licit uses largely inline with their respective assessments.
The report also shows that monitoring the availability of psychotropic substances for medical and scientific use continues to be a challenge. Continuing the trend from 2021, around 95 countries and territories provided consumption data for at least one psychotropic substance, however gaps between countries consumption data remain significant and hinder the ability of the international community to ensure equitable access to internationally controlled psychotropic substances for medical and scientific purposes.
'Psychotropic Substances 2022' is now available for download.
***