INCB President presents Annual Report and Precursors Report to the Commission on Narcotic Drugs
Vienna, 14 March 2018 - The INCB President, Dr. Viroj Sumyai, presented the INCB 2017 Annual Report and Precursors Report to the 61 st session of the Commission on Narcotic Drugs, which was taking place in Vienna from 12 to 16 March.
Dr. Sumyai spoke under agenda item 5c, on the work of the Board, and drew attention to the thematic first chapter of the 2017 Annual Report, on treatment, rehabilitation and social reintegration for drug use disorders as essential components of drug demand reduction. Dr. Sumyai also highlighted the special focus of the report on linkages between human rights and drug policy, marking the seventieth anniversary of the Universal Declaration of Human Rights.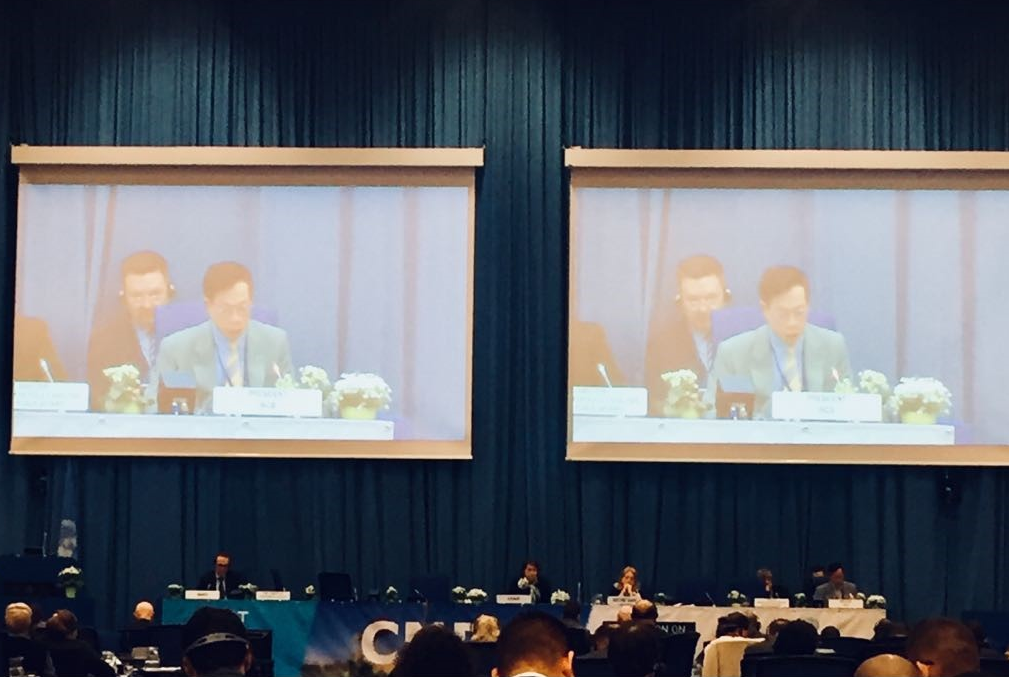 The INCB President also addressed the plenary under agenda item 5d, on international cooperation to ensure the availability of narcotic drugs and psychotropic substances for medical and scientific purposes while preventing their diversion. Dr. Sumyai referred to the ongoing work of the Board in this area, and announced that the Board was preparing an updated analysis of the global situation to present to the 2019 session of the Commission. The statement concluded with a plea to Member States to actively participate in and utilize INCB initiatives such as I2ES and INCB Learning, and to provide the Board with the necessary financial and human resources to ensure their sustainability and expansion.
Dr. Sumyai also made a statement on behalf of the Board under agenda item 5b, Challenges and future work of the CND and WHO in the review of substances for possible scheduling recommendations. Attention was drawn to the responsibility of the Board under article 12 of the 1988 Convention to assess chemicals used in the illicit manufacture of drugs in order to determine whether they should be placed under international control. Reference was made to a proposal by the Government of Argentina to schedule three precursors of amphetamine-type stimulants in the tables of the 1988 Convention. Governments were urged to communicate all relevant information that may assist the Board in establishing an assessment and, subsequently, the Commission in reaching a decision. Attention was also drawn to challenges related to the scheduling process for precursors under the 1988 Convention, mainly due to the emergence of non-scheduled chemicals, in particular "designer precursors".
In the INCB President's statements to the Commission, he drew attention to the tools developed by the Board to assist in the control of precursors and new psychoactive substances: PEN-Online, PICS and IONICS.
The INCB President's speeches are available here.